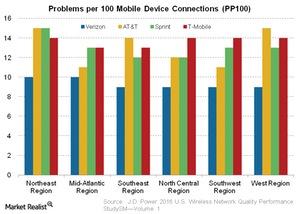 What Are Verizon's Rankings in Comparison to Peers?
By Ray Sheffer

Mar. 16 2016, Updated 11:04 a.m. ET
Verizon's wireless rankings
According to RootMetrics' 2H15 national results, Verizon received the highest network performance rating among the top four US (SPY) wireless providers. The other top US wireless carriers are AT&T (T), Sprint (S), and T-Mobile (TMUS). At the Deutsche Bank Media, Internet & Telecom Conference on March 8, 2016, Verizon's CFO, Fran Shammo, highlighted the performance of the telecom company's wireless network according to a recent study by J.D. Power.
Article continues below advertisement
According to the telecom company's press release on March 3, 2016, "When it comes to wireless network quality in the United States, Verizon Wireless ranks highest across all six regions among U.S. wireless providers, according to the latest J.D. Power 2016 Wireless Network Quality Performance Study." The press release also mentioned, "The study, conducted between July and December 2015, covers six regions of the U.S., including 48 states and the District of Columbia." Verizon also mentioned, "For the third time, Verizon Wireless took the top spot in all six regions."
As we can see in the above bar chart, the problems per hundred mobile connections for Verizon were the lowest in the six regions. Note that these regions were the Northeast, Mid-Atlantic, Southeast, North Central, Southwest, and West.
AT&T's wireless rankings versus peers
According to the study, AT&T had the second lowest score among peers including Verizon, T-Mobile, and Sprint in the North Central region, the Mid-Atlantic region, and the Southwest region in terms of problems per hundred mobile connections. Moreover, AT&T and Sprint had similar scores in this metric in the North Central and the Northeast regions.