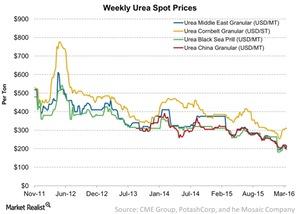 How Did Urea Prices Move Last Week?
Urea
China is the largest exporter of urea. Urea saw a price increase in the week ended March 18. According to FERTECON, about 54% of the global ammonia production was upgraded to urea in 2013.
Article continues below advertisement
Granular urea prices
For the week ended March 18, 2016, the urea price in China rose by about 6%, breaking its three-week trend. The prices of urea in China rose by 6% to $212 per metric ton from $200 per ton a week ago. Year-over-year, urea prices in China are 29% below the $300 per metric ton in the same week a year ago. China uses coal as a hydrogen source as opposed to natural gas to produce nitrogen fertilizers. We'll discuss natural gas and coal prices in more detail later in this series.
The price of urea in the Middle East declined to $227 per metric ton for the week ending March 18 compared to $236 per metric ton the previous week. On the other hand, urea prices in the US Cornbelt also declined slightly by 0.06% to $265 per metric ton from the previous week's $267 per metric ton. Year-over-year, urea prices are down by 19% in the Middle East and 13% in the Cornbelt.
Prices in the Cornbelt are continuing their upward trend as can be seen in the chart above while the opposite is true for China urea prices. The cheap natural gas in the US seems to have proved beneficial for urea prices in the Cornbelt.
Prill urea prices
While the above prices were for granular urea, the prill urea prices in the Black Sea have declined 8% to $195 per metric ton compared to $212 the previous week. Year-over-year, the prill urea prices at the Black Sea point are down by 35%.
Companies such as CF Industries (CF), CVR Partners (UAN), PotashCorp (POT), and Agrium (AGU) are affected by rising urea prices in China. Rising prices also affect the iShares US Basic Materials (IYM) because this ETF invests in some of the above companies. IYM invests about ~48% in chemical companies.
In the next part of this series, we'll discuss the input costs for nitrogen fertilizers.