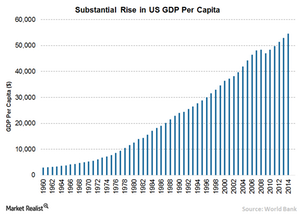 Why Warren Buffett Strongly Believes in the American Dream
The election and the economy
In his annual letter to shareholders, Warren Buffett noted that the US (IWB) (IJR) economy is in great shape and much better than some of the presidential candidates make it seem.
Buffett stated, "It's an election year, and candidates can't stop speaking about our country's problems (which, of course, only they can solve). As a result of this negative drumbeat, many Americans now believe that their children will not live as well as they themselves do."
Article continues below advertisement
America's economic magic
Buffett noted, "That view is dead wrong: The babies being born in America today are the luckiest crop in history." He added that the American GDP per capita is now about $56,000, six times higher than it was when he was born in 1930. This was a quantum leap beyond the imaginations of his parents or their contemporaries.
Buffett added, "US citizens are not intrinsically more intelligent today, nor do they work harder than did Americans in 1930. Rather, they work far more efficiently and thereby produce far more. This all-powerful trend is certain to continue: America's economic magic remains alive and well."
Current living standard exceeds that enjoyed by John D. Rockefeller Sr.
Buffett believes that most of today's children are doing well. He noted, "All families in my upper middle-class neighborhood regularly enjoy a living standard better than that achieved by John D. Rockefeller Sr. at the time of my birth. His unparalleled fortune couldn't buy what we now take for granted, whether the field is—to name just a few—transportation, entertainment, communication or medical services. Rockefeller certainly had power and fame; he could not, however, live as well as my neighbors now do."
Buffett said that it has been a terrible mistake to bet against America (IWD) (IJH), not only for the past 240 years but even now. He believes that America's emphasis on innovation (IYW) and strength in commerce will continue to provide strong gains for its people.