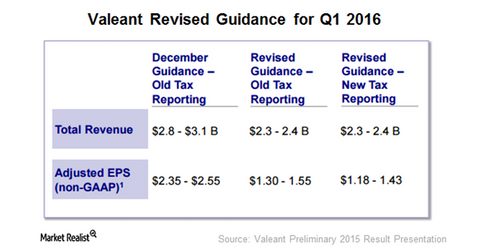 Why Is Valeant Pharmaceuticals Expecting Lower Sales in 2016?
By Jillian Dabney

Mar. 17 2016, Updated 8:05 a.m. ET
Valeant lowered sales outlook for 1Q16
After announcing its preliminary earnings for 4Q15 on March 15, 2016, Valeant Pharmaceuticals (VRX) shares took a sharp fall. One of the major reasons for the fall was the significantly lowered guidance for the next 12 months.
The company has anticipated sales for 1Q16 to be $2.3 billion–2.4 billion. Its earlier estimate was $2.8 billion–$3.1 billion.
Valeant lowered its 1Q16 revenue guidance following less-than-expected growth in its gastrointestinal and dermatology portfolios. Jublia, the company's key dermatology product, competes with Anacor Pharmaceuticals' (ANAC) Kerydin and Sanofi's (SNY) Penlac. Jublia is a topical treatment for onychomycosis. Other treatments for the disease include systemic antifungals such as Lamisil by Novartis (NVS).
Article continues below advertisement
Lower revenue guidance for fiscal 2016
Valeant Pharmaceuticals lowered its revenue guidance for fiscal 2016 based on the following:
transition from Philidor Rx Services to Walgreens
higher inventory reductions
no more price increases
The company has been conservative in its estimates for 2016. It expects revenues to be impacted by slower growth in its dermatology and women's health portfolios.
The US market is critical to Valeant's success, as it derives a major chunk of revenue from it. Due to competitive pressure, the company is investing more in rebates for access to key products such as Jublia.
The company is planning to reduce prices in its Walgreens portfolio for its dermatology and ophthalmology products an average of 10%. This price reduction would flow to other channels as well. For other drugs, the price increase would be in line with market and payer contracts.
Valeant's branded access program with Walgreens was launched in January 2016. It started with dermatology and then extended to ophthalmology.
Currently, 30% of Valeant dermatology prescriptions flow from Walgreens, reflecting the success of the program. This summer, the company plans to launch a generic brand program with Walgreens. Valeant's agreement with Walgreens is expected to ramp up its prescriptions following its separation from Philidor.
To diversify the risk of investing directly in the equity of Valeant Pharmaceuticals, investors can look for options such as the Vanguard Total World Stock Index Fund (VT). VT holds 0.06% of its total holdings in Valeant Pharmaceuticals stock.
In our final part of the series, we'll see how analysts are rating Valeant Pharmaceuticals after all the turmoil.