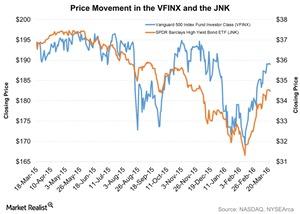 US Stock Indices Rebounded after Deadly Terror Attack in Brussels
US stock indices rose
Three US equity indices rebounded after the terror attack at the Brussels airport and metro station on March 22, 2016. The S&P 500 index is tracked by the Vanguard 500 Index Fund Investor Class (VFINX). It rose 1.2%. The Dow Jones Industrial Average (DJIA) rose 1.9% and the NASDAQ rose 2.0% from March 15 to March 22, 2016. The S&P 500 index is also tracked by the SPDR S&P 500 ETF (SPY). It rose by 1.7% for the same period.
Article continues below advertisement
Travel-related stocks took a hit
Travel stocks—including equities of airline, leisure, and hotel companies—took a big hit after the terrorist attack in Brussels during the early hours of the day. Shares of American Airlines (AAL) fell after two explosions were reported next to its check-in desk at the Brussels International Airport. Equities of travel-related companies such as Priceline Group (PCLN), Expedia (EXPE), and Carnival (CCL) also fell.
The risk aversion sentiment caused by the terror attack in Brussels led to increased demand for safe-haven assets such as Treasuries and gold.
Junk bonds
Junk bond yields fell sharply by 24 basis points week-over-week and ended at 8.1% on March 18, 2016. Due to a decline in yields, the price of mutual funds and ETFs investing in junk bonds like the American Funds American High-Income Trust – Class A (AHITX), the T. Rowe Price High Yield Fund – Advisor Class (PAHIX), the SPDR Barclays Capital High Yield Bond ETF (JNK), and the iShares iBoxx $ High Yield Corporate Bond Fund (HYG) rose in the week ending March 18.
This series will cover the developments in the primary and secondary markets for high-yield debt and leveraged loans. First, let's look at how junk bonds provide an attractive investment opportunity.