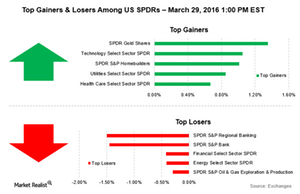 US Dollar Weakens as Yellen Voices Rate Hike Concerns, Gold Spikes
US Dollar Index falls on a dovish statement from Yellen
The US dollar index was trading lower on March 29, 2016, at 1:00 PM EST. US Federal Reserve Chair Janet Yellen delivered a dovish statement about further rate hikes. Yellen expressed concerns over global economic growth and reiterated the need for the central bank to remain cautious in terms of tightening monetary policy. Rate increases are expected to remain gradual as international developments have heightened the risks relating to the Fed's policy stance. Even as inflation increases, Yellen's outlook for consumer price growth remains below the overall target of 2%, adding to concerns about going ahead with an early rate hike. The US dollar index fell 0.79% during the day against a basket of currencies.
Article continues below advertisement
Looking at major indices in the United States, we see that the S&P 500 Futures Index rose 0.67% today. The NASDAQ Futures and the Dow Jones Industrial Average rose 1.3% and 0.44%, respectively. CB Consumer Confidence rose to 96.2 points in March, exceeding expectations. It had been 94 points in February.
Gold ETFs rise as precious metal prices get a boost
Gold prices shot up during the day, helped by the fall in the US dollar index, as investors began parking their funds in safe-haven assets. The Japanese yen rose almost 0.5% against the US dollar, supported by the latter's weakness. The SPDR Gold Shares ETF (GLD) and the iShares Gold ETF (IAU) rose 1.4% during the day. Other precious metals—like silver, platinum, and palladium—were also trading stronger.
Impact on ETFs across sector SPDRs
Along with gold, the utility and technology sectors took positive cues from Yellen's dovish statements. The Technology Select Sector SPDR ETF (XLK) rose 1.1% as of 1:00 PM. The Utilities Select Sector SPDR ETF (XLU) and the Health Care Select Sector SPDR ETF (XLV) rose 0.85% and 0.67%.
Among the major sector-specific SPDRs trading negatively, the SPDR S&P Oil & Gas Exploration & Production ETF (XOP) fell 0.30%. The financial sectors were trading on a sour note. The Financial Select Sector SPDR ETF (XLF) fell 0.42% Also, the SPDR S&P Regional Banking ETF (KRE) and the SPDR S&P Bank ETF (KBE) fell 1.5% during the day.