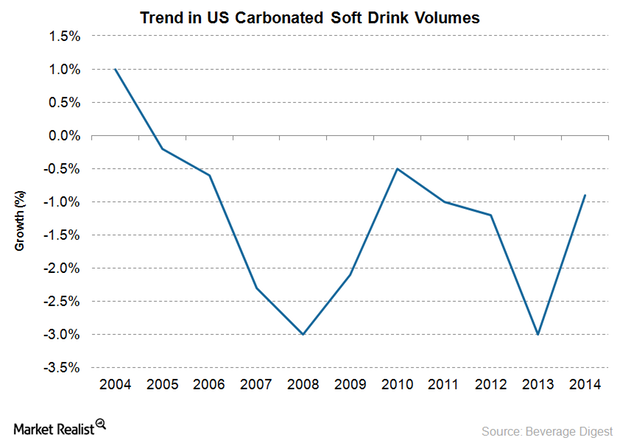 Understanding US Consumers' Aversion to Soda Drinks
By Sirisha Bhogaraju

Mar. 30 2016, Updated 9:13 a.m. ET
Declining per-capita consumption
The per-capita consumption of soda beverages has been trending downward. According to Beverage Digest, per-capita soft drink or CSD consumption in 2014 fell to 674 eight-ounce servings per person per year, marking the lowest level since 1986. Per-capita CSD consumption was 675 in 2013. Beverage Digest attributed the 2014 decrease to declining volumes and the modestly rising US population.
Article continues below advertisement
Persistent weakness in volumes
Plus, carbonated soft drink volumes fell for the tenth straight year in 2014 (see the chart above). According to Beverage Digest, US carbonated soft drink volumes fell 0.9% to 8.8 billion 192-ounce cases in 2014. Carbonated soft drink volumes reached their peak in 2004. Since then, CSD volumes have fallen by 1.4 billion cases. Beverage Digest includes energy drinks in the carbonated soft drink category. Excluding energy drinks, the decline in CSD volumes was even higher, at 1.2% in 2014.
In 2014, Coca-Cola (KO) and PepsiCo's (PEP) CSD volumes fell 1.1% and 1.4% while Dr Pepper Snapple's (DPS) volumes were flat. According to Beverage Digest, Monster Beverage (MNST) recorded a 7% rise in its 2014 CSD volumes, reflecting strong demand for energy drinks. The PowerShares DWA Consumer Staples Momentum ETF (PSL) has 4% exposure to Monster Beverage.
Unfavorable factors
Weak US carbonated soft drink volumes are largely due to health concerns. Soda's high sugar and caffeine content is alleged to cause several health issues, like obesity, diabetes, osteoporosis, and tooth decay.
Soda companies continue to deny these alleged harmful effects. However, at the tenth annual Clinton Global Initiative in 2014, the three largest soda makers in the United States—Coca-Cola, PepsiCo, and Dr Pepper Snapple Group—pledged to cut calories from their products by 20% for 2025. They proposed achieving this goal through a combination of marketing, distribution, and packaging efforts. Beverage companies have also made efforts to provide nutrition information, featuring calories on their packages.
Carbonated soft drinks are also facing competition from growth categories like bottled water, sports drinks, and ready-to-drink tea.