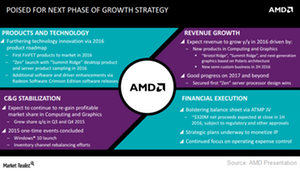 Understanding AMD's Uphill Battle against Lost Market Share
By Puja Tayal

Mar. 31 2016, Updated 3:26 p.m. ET
AMD emerges from a tough 2015
Advanced Micro Devices (AMD)—Intel's (INTC) major competitor in the PC processor and data center space and NVIDIA's (NVDA) major competitor in the graphics space—had a tough 2015, reporting losses and lost market share. The firm's share price has declined by more than 67% over the past five years from $9 to less than $3 as of March 28, 2016. However, the company is gearing up to regain its lost market share by launching some of its revolutionary products.
In this series, we'll look at AMD's current challenges, the related impacts on the company, and the strategies it has adopted to overcome these struggles.
Article continues below advertisement
Challenges
For the first three fiscal quarters of 2015, AMD was writing down inventory of older generation APUs (application processing units), which led to huge losses. Moreover, the major slowdown in PC sales in 2015 and the strong competition it faced from Intel caused AMD's fiscal 2015 revenue from the Computing and Graphics segment to fall by 42% YoY (year-over-year) to $1.8 billion.
The company also lost market share to NVIDIA. Although AMD was on top of product innovation, it was slow in launching updated products, and it lagged behind on manufacturing processes, which made its products less efficient. This left the cash-strapped AMD with little reserves to spend on R&D (research and development), while its rivals are still sitting on huge cash piles.
As of December 2015, AMD had cash reserves of around $785 million, compared to debt of $2.3 billion, while Intel has cash reserves of $25 billion and NVIDIA of $5 billion.
Growth strategies
AMD is now looking to overcome this strong competition by leveraging its technology in the gaming, immersive, and data center spaces. The company is set to launch revolutionary products in each of these three segments in 2016, and like Qualcomm (QCOM), AMD is also looking to monetize its patent portfolio in return for a royalty fee.
Notably, the iShares US Technology ETF (IYW) has 13.5% exposure in semiconductors, including 4.36% in INTC, 0.05% in AMD, 2.18% in QCOM, and 0.51% in NVDA.
Keep reading this series for a look at the above challenges in detail, starting with the manufacturing process node.