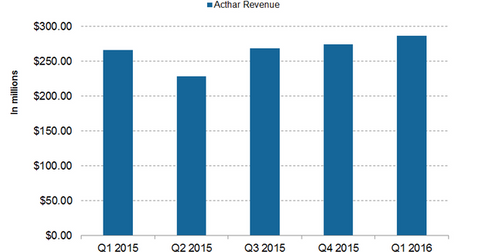 Understanding Acthar's Contribution to Mallinckrodt's Top Line
By Jillian Dabney

Updated
Acthar, Mallinckrodt's the lead product
In 1Q16, Acthar earned $286.7 million for Mallinckrodt (MNK), reflecting an annual jump of 7.6%. The drug accounted for 31% of the company's total revenues during 1Q16, which exposes the company to product concentration risks.
Acthar is approved by the FDA (US Food and Drug Administration) for 19 indications that include disorders in the area of neurology, rheumatology, nephrology, and pulmonology.
Revenues from neurology, nephrology and rheumatology make up around 30% each for Acthar, and the remaining 10% come in from other indications. The company has identified pulmonary as a major immerging opportunity for the drug.
Article continues below advertisement
How Acthar came to Mallinckrodt
The central ingredient of Acthar is ACTH, which is obtained from pig pituitary glands. In 1952, Armor & Company received approval for the production of H.P. Acthar. The rights for the product were further obtained by Aventis, which is now Sanofi (SNY). After suffering losses on Acthar, Aventis sold the drug to Questcor, which was later acquired by Mallinckrodt for about $5.9 billion in August 2014.
Acthar: one of the most expensive drugs in the US
Under Questcor's ownership, Acthar experienced a huge price hike in 2007 from $1,650 to $23,000 per vial. Since Mallinckrodt's acquisition of the drug, it went through two more price hikes, one for 5.5% in December 2014 and another 2% increase in June 2015.
This makes Acthar one of the most expensive drugs around, costing more than $200,000 per patient per year. Other costly drugs include BioMarin Pharmaceuticals' (BMRN) Naglazyme and Vimizim, and Alexion Pharmaceutical's (ALXN) Soliris.
We should note that it's often risky to invest directly in a pharmaceutical or biotech company because any news release for the success or failure of a drug can result in stock volatility. To remain on the comparatively safer side, investors can choose funds like the Health Care Select Sector SPDR Fund (XLV), which has 0.26% of its total holdings in Mallinckrodt.
Now let's discuss Mallinckrodt's outlook for 2016.