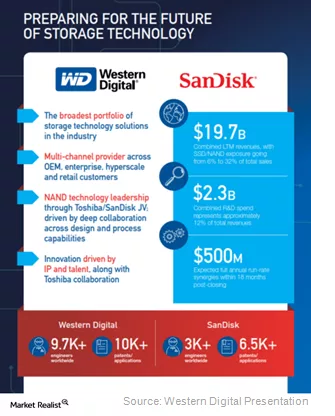 Why Tsinghua Terminated the Western Digital Investment Deal
By Adam Rogers

Mar. 1 2016, Published 9:09 a.m. ET
Western Digital investment shelved
Last week, Tsinghua Unigroup's subsidiary Unisplendour announced that its board of directors decided to terminate its investment plan in leading data storage company Western Digital (WDC). In September 2015, China's Unisplendour agreed to acquire a 15% stake in WDC for ~$3.8 billion. In October 2015, WDC agreed to acquire SanDisk. WDC planned to use the proceeds from Unisplendour to fund the $19 billion SanDisk acquisition.
Article continues below advertisement
However, China's (FXI) merger activities have been under intense scrutiny by the United States due to national security concerns. This has made regulatory approval a major hindrance to merger deals. The Committee on Foreign Investment in the United States notified Unisplendour and WDC that it would investigate the proposed deal. This encouraged Unisplendour to back out of the investment.
Tsinghua Unigroup's $23 billion bid to acquire Intel's (INTC) memory partner Micron Technology (MU) was rejected by US regulators.
China-based Tsinghua Unigroup and Western Digital formed a joint venture in 2015 to sell data center storage solutions. This joint venture is expected to continue without interruption.
Impact on the Western Digital-SanDisk acquisition
According to DRAMeXchange, the terms of the deal for Western Digital's acquisition of SanDisk (SNDK) have changed, as well. Under the revised agreement, each SanDisk share will now be worth $67.50 in cash plus a 0.24 share of WDC's stock. DRAMeXchange stated, "Based on WD's closing price on February 22, the latest offer is estimated at $78.50 a share. Furthermore, the SanDisk acquisition will have to be voted on at a WD shareholder meeting to be held on March 15."
NAND Flash crucial to localize semiconductor production
China's plans to build a domestic semiconductor industry mean that Tsinghua has received financial backing to support its mergers and acquisitions. According to DRAMeXchange, "The ambitious Tsinghua Unigroup has been busily investing in companies along the mid- and downstream of the NAND Flash industry chain."
China views NAND Flash as key to localizing semiconductor production. According to DRAMeXchange, China's consumption of NAND Flash accounted for 28%, or $6.5 billion, of global consumption in 2015. In 2016, China's NAND consumption is expected to increase to 33% of the world total. China's semiconductor companies are thus trying to establish a NAND Flash chain through various investment ventures.