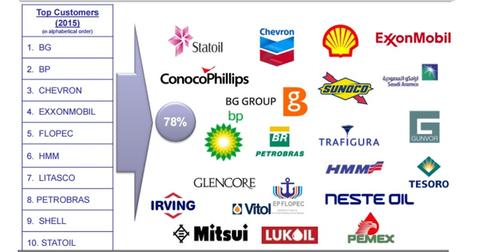 Tsakos Announces Charter Extensions for 5 Panamax Tankers
By Sue Goodridge

Mar. 30 2016, Published 4:21 p.m. ET
Tsakos' contract extensions
Yesterday, Tsakos Energy Navigation (TNP) announced charter extensions with a state oil company for five Panamax tankers. The average duration of the contracts is 22 months per vessel, and the minimum gross revenue from these contracts is $65 million. These fixtures are expected to start between April and November of 2016 when their existing employment expires. These contracts should contribute $20 million to the company's bottom line on an annualized basis.
Article continues below advertisement
Tsakos's focus shifts to time charters
Since the start of 2015, Tsakos has been shifting its focus from the spot market to the time charter market. Excluding these new contracts, Tsakos has secured 15 new fixtures from the start of 2015. The company now has $1.5 billion in secured future revenues. The average length of the contracts for the whole fleet is 2.7 years.
Spot-fix exposure
Spot contracts are for a short duration or a voyage from one port to another. Crude (DBO) tanker companies charge the prevailing spot rate in the market. By contrast, under time charter contracts, vessels are hired for a specific period, which can last up to five or six years, at a pre-decided daily rate.
With newbuild vessels entering the fleet in 2015, the company expects the fleet's annual contracted coverage to increase to 60% compared to 45% in December 2014. The higher percentage of fixed charters should stabilize TNP's revenue.
Along with Tsakos, Teekay Tankers (TNK), Frontline (FRO), and DHT Holdings (DHT) change their fleet employment from fixed to spot and from spot to fixed prices according to market conditions. Nordic American Tanker (NAT), however, employs all its vessels in the spot market.