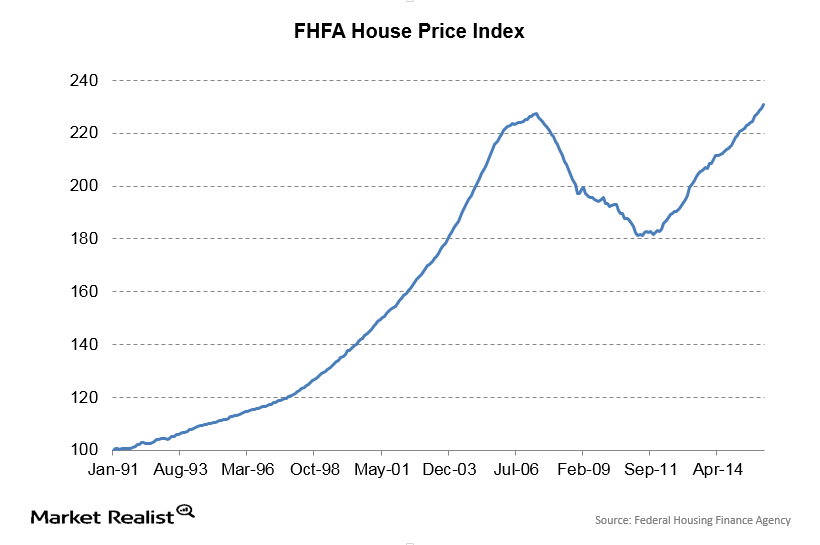 Tight Inventory Continues to Drive House Prices Higher
By Brent Nyitray, CFA, MBA

Mar. 23 2016, Published 10:09 a.m. ET
Prices continue to climb
In January 2016, the FHFA (Federal Housing Finance Agency) reported that house prices grew 0.5% month-over-month. The prices rose by 6% year-over-year. Now, the prices are higher than their April 2007 peak. This means that the losses from the Great Recession have been recouped. Real estate values drive consumer confidence and spending. In fact, asset price appreciation was a big driver of consumption during the bubble years. It masked wage stagnation.
Article continues below advertisement
A tight real estate market is driving prices higher. The latest Existing Home Sales report shows available inventory at 4.4 months. It shows a market tilted heavily in favor of sellers. A balanced market is considered to be around 6.5 months worth of inventory. In some localities like San Diego, California, the inventory is about two months. Pending home sales are higher than homes available for sale—an almost unheard of state of affairs.
What makes the FHFA House Price Index different?
The FHFA's House Price Index differs from other house price indexes, including those from Case-Shiller and Radar Logic, because it only looks at houses with mortgages guaranteed by Fannie Mae and Freddie Mac.
This difference means that home prices are below the conforming threshold of $417,000. It also means that the borrower has a mortgage that eliminates cash-only transactions. This eliminates a lot of the bidding war transactions we've seen in the hot markets. Finally, the FHFA House Price Index eliminates jumbos. This makes it more of a central tendency index.
The FHFA House Price Index is the first major house price index to get back to its prior highs. Other indexes, including Case-Shiller, show that we're still about 10% below the peak levels.
Implications for REITs and real estate companies
Rising real estate prices are good for real estate securities owned by real estate companies like Colony Financial (CLNY) and Northstar Realty Finance (NRF). These companies aren't like Annaly Capital (NLY) or American Capital Agency (AGNC). The latter two primarily invest in agency, or government-insured, mortgage-backed securities. Instead, they take the credit risk. If the borrower defaults, they're stuck with the collateral.
Investors interested in trading the real estate sector through an ETF could look at the iShares Mortgage Real Estate Capped ETF (REM). If you want to isolate interest rate risk, you can consider the iShares 20+ Year Treasury Bond ETF (TLT).
In the next part of this series, we'll look at how housing prices are approaching peak levels and what that means.