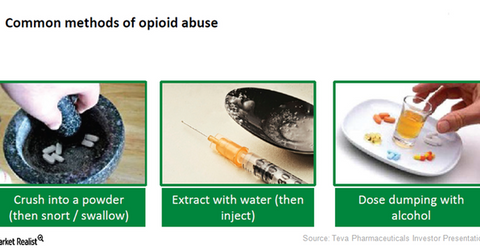 How Is Teva Aiming to Lead the Abuse-Deterrent Opioid Segment?
By Margaret Patrick

Updated
Abuse-deterrent opioid segment
Teva Pharmaceutical Industries (TEVA) expects Vantrela, an abuse-deterrent opioid, to be approved by the FDA in 2016. Vantrela aims to prevent the abuse and risks involved in the consumption of opioid painkillers. According to WebMD, "Opioids are a type of narcotic pain medication. They can have serious side effects if you don't use them correctly." Abuse-deterrent opioids generally make it inconvenient or unattractive for users to consume the drugs excessively.
Article continues below advertisement
Vantrela
The above diagram shows the most common methods by which patients generally indulge in opioid abuse. Teva managed to establish the efficacy of Vantrela for pain management in phase 3 clinical trials. In addition to its pain-management efficacy, Vantrela possesses properties to prevent people from abusing it in any of the above ways. Vantrela is an extended-release medication and targets 15% of the total opioid abuse cases, which involve the snorting or injection of crushed extended-release tablets.
If Vantrela is approved, Teva (TEVA) could pose as strong competition for other companies in the opioid medication space such as Pfizer (PFE), Eli Lilly and Company (LLY), and Johnson & Johnson (JNJ).
New submissions
Teva Pharmaceutical expects to obtain data from phase 3 clinical trials for its immediate-release abuse-deterrent opioid drug, TV-46763. When the drug is used for therapeutic purposes, the active ingredients are released immediately to provide pain relief. However, in case there is accidental or intended overconsumption of the drug, the drug release rate is lowered. As about 85% of opioid abuse cases stem from the use of multiple intact immediate-release tablets, this offers a substantial growth opportunity for Teva. The company expects to submit TV-46763 to the FDA for regulatory review in 2016.
If TV-46763 is approved by the FDA, it could prove to be a major milestone for Teva and may boost the company's share prices. It could also boost the share prices of the SPDR S&P World ex-US ETF (GWL). Teva makes up about 0.35% of GWL's total portfolio holdings. In the next part of this series, we'll explore Teva Pharmaceutical's progress in the Huntington's disease space with its innovative drug, SD-809.