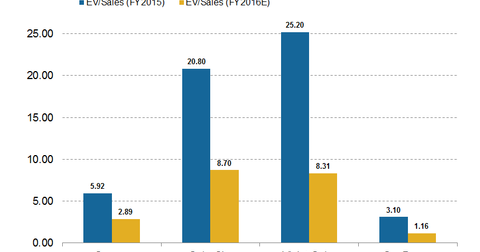 Is Sunrun Trading at a Discount Compared to Its Peers?
By Sheldon Krieger

Updated
Relative valuation
Relative valuation helps to compare a firm's value relative to its peers' value. The enterprise value (or EV) to sales ratio represents the value created per dollar of sales made by the company during a year. Therefore, a higher enterprise value to sales ratio implies that the company is overvalued compared to its peers.
However, these multiples have to be considered with caution as a higher EV-to-sales ratio also implies higher value addition to a company from higher sales in the future.
Among the downstream solar (TAN) companies, SolarCity (SCTY) has the highest EV-to-sales value of 8.7x, which is closely followed by Vivint Solar (VSLR) with an EV-to-sales ratio of 8.31x.
Analysts expect that Sunrun's (RUN) EV-to-sales ratio to be 2.89x in fiscal 2016 compared to 5.92x in fiscal 2015. SunPower's (SPWR) EV-to-sales ratio is anticipated to be ~1.16x for fiscal 2016.
Article continues below advertisement
Sunrun's price-to-book value
Price-to-book value (or PB) is one of the most commonly used relative valuation multiples. However, price-to-earnings and EV-to-EBITDA (earnings before interest, tax, depreciation, and amortization) are also used in specific cases.
The PB ratio is used to compare company's stock price to its book value. A lower PB value could imply that the stock is undervalued. Analysts expect that the forward PB ratio of Sunrun for fiscal 2016 to be around 1.2x, which is lower compared to SolarCity's PB ratio of 2.35x and SunPower's PB ratio of 2.16x. However, analysts expect Sunrun's PB ratio to be on par with that of Vivint Solar's PB ratio for fiscal 2016.
Notable recommendations
Among the seven firms covering the Sunrun stock, Credit Suisse is most bullish on the stock, with a price target of $21 assigned on March 21, 2016.
Morgan Stanley assigned an overweight rating with a target price of $19. However, Goldman Sachs remains neutral on the stock with a price target of $7 assigned on March 3, 2016.