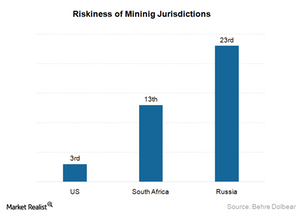 Where Does Stillwater Rank in Terms of Mining Risk?
Lower mining risk
Stillwater Mining (SWC) exhibits strong leverage to palladium prices. It has lower geopolitical mining risk than South African PGM (platinum group metals) producers. While labor unrest is rampant in South Africa, Stillwater reached a four-year labor agreement. It includes no increase in base wages for the first two years and simplification of the employee incentive program.
Article continues below advertisement
Mining in South Africa and Russia
The South African PGM industry and mining industry as a whole are mired in the wage negotiations phase. Wages are increasing more than inflation, which is also rampant in the country. South African miners are also grappling with declining productivity at their operations, which has started hurting their EBITDA (earnings before interest, tax, depreciation, and amortization) margins. Miners are responding by cutting their capital expenditures. This, in turn, hurts their long-term production plans.
Stillwater also mentioned during its latest earnings call that "at some point the lack of investment in sustainable CapEx in South Africa will start to drive production cuts." South African miners went through the phase of restructuring to lower their operating costs and recapitalize their balance sheets. This has resulted in several rights issues in the industry over the last few years. Their balance sheet quality is quite poor compared to Stillwater's.
Article continues below advertisement
Russia, on the other hand, is a geopolitically higher risk compared to the United States, where Stillwater has most of its operations. These country-specific risks make stocks of companies such as Anglo American (AGPPY), Impala Platinum (IMPUY), Aquarius Platinum (AQPTY), and Norilsk Nickel (NILSY) more volatile. Investors should note that Aquarius Platinum will be taken over by Sibanye Gold (SBGL), subject to certain approvals.
Behre Dolbear's 2015 mining rankings
According to Behre Dolbear's 2015 report, in a survey of 25 countries, Russia came in 23rd in terms of riskiness for mining investments. South Africa, on the other hand, ranked 13th. The United States was the third most favored destination for mining investments after Canada and Australia.
The above graph shows these rankings. The lower the numerical ranking, the lower the risk. Ranking criteria include the political system, currency stability, permitting, and economic system.
Stillwater Mining investors tend to be those looking for palladium exposure with low geopolitical and regulatory risk. You can also invest in ETFs that track platinum and palladium prices. The ETFS Physical Platinum (PPLT) and the ETFS Physical Palladium (PALL) track spot platinum and palladium prices, respectively.