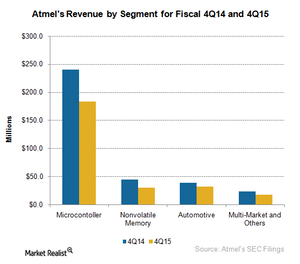 What's Been Such a Drag for Atmel's Core Business?
Atmel's business segments at a glance
In the preceding part of this series, we discussed how Atmel (ATML) accepted Microchip's (MCHP) acquisition offer over Dialog Semiconductor's because the former's offer had a higher cash component for shareholders. We also discussed that product overlaps are expected to bring merger synergies worth $170 million in fiscal 2019. Let's look now at the business segments of Atmel and Microchip, as well as at the advantages both companies will likely gain from this merger.
Atmel divides its product offerings into the following four segments:
MCUs (microcontrollers)
nonvolatile memory
automotive solutions
multi-market and other
The company mainly provides MCUs for embedded systems. It also serves other markets such as consumer, industrial, communications, computer networking, medical, automotive, military, and aerospace.
Article continues below advertisement
Microcontrollers
Atmel's revenue from MCUs fell by 23.6% YoY (year-over-year) to $183.1 million in 4Q15 and by 18.7% YoY to $808 million in 2015. MCU accounts for 70% of the company's total revenues. But the overall weakness in the semiconductor industry hit the MCU market in particular. MCU suppliers such as Intel (INTC) and Advanced Micro Devices (AMD) also posted declining revenues in 4Q15.
Microchip earns ~59% of its revenues from MCUs. The merger with Atmel will thus likely strengthen its MCU portfolio and increase revenues. However, there are concerns about how Atmel, which is struggling with declining revenues itself, would increase Microchip's revenues.
Automotive
Atmel's revenue from automotive fell by 19% YoY to $31.6 million in 4Q15 and 9.5% YoY to $138.7 million in 2015. Automotive is the fastest-growing semiconductor segment, according to IC Insights. Companies such as Linear Technology and Maxim Integrated posted growth in this segment while their overall revenues fell in 4Q15.
Microchip recently increased its exposure in automotive analog ICs (integrated circuits) by integrating Micrel.
Article continues below advertisement
Nonvolatile memory
Atmel's revenue from nonvolatile memory fell by 32.5% YoY to $29.7 million in 4Q15 and 9.6% YoY to $150.8 million in 2015. The company already faces tough competition from memory giants like Samsung Electronics, Micron Technology, Intel, and SK Hynix, and transitioning to 3D technology will likely slow down sales even more in the first half of 2016.
Multi-market and other
Atmel's revenue from others fell by 27.2% YoY to $16.9 million in 4Q15 and 24.4% YoY to $75 million in 2015. Revenue from this segment was hit by a decline in MCU businesses and foreign currency headwinds, which impacted its sales in Asia (AAXJ).
In the next and final part of this series, we'll examine the impact of Microchip's proposed acquisition has had on Atmel's stocks.