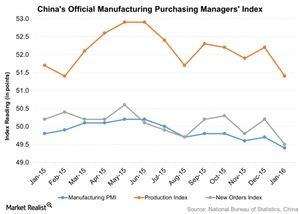 Slowdown in Manufacturing Sector Forces China to Shift Its Focus
By Lynn Noah

Updated
Shift of focus
China has predominantly been a major manufacturing hub. But of late, China has wanted to shift its focus from a manufacturing economy to a service- and consumption-based economy due to the slowdown in the manufacturing sector.
China's official manufacturing PMI (or purchasing managers' index) reading for January was down and came in at 49.4 as compared to 49.7 in December 2015. This index is released every month by the National Bureau of Statistics of China, and it mainly focuses on large Chinese companies.
Article continues below advertisement
On the other hand, the Caixin China manufacturing PMI came in at 48.4 in January, up slightly from 48.2 in December. At the time, manufacturing units signaled a modest deterioration in operating conditions at the start of 2016, with both output and employment declining at slightly faster rates than in December.
It focuses more on small-to-medium-sized private firms, which are adversely impacted by the economic slowdown and high financing costs.
Manufacturing slump and its impact
Most of the factories in China are faced with overcapacity due to weak demand at home and also abroad. China's manufacturing sector has also been hit by a slowdown in the construction sector, which drives demand for many industrial products. Manufacturers are forced to reduce prices to stay in business, impacting their margins are impacted. However, the stimulus measures introduced by the Chinese authorities have showed little impact on the manufacturing sector and more reforms would be needed in 2016 for manufacturing to get going again.
Manufacturing has been hit particularly hard by China's faltering construction sector, which drives final demand for many industrial products.
Among the mutual funds, the Oberweis China Opportunities Fund (OBCHX) has more than 20% exposure to the industrial sector while the AllianzGI China Equity Fund – Class A (ALQAX) and the Matthews China Fund –Investor Class (MCHFX) have ~17% and ~15% weights, respectively, to the industrial sector.
The performance of these funds took a hit due to the manufacturing slump and a deflationary environment resulting from a continuous fall in commodity prices. The above-mentioned mutual funds invest in stocks of companies such as Taiwan Semiconductor Manufacturing Company Limited (TSM), Sinopec Corporation (SNP), Tencent Holdings Limited (TCEHY), and China Mobile Limited (CHL).