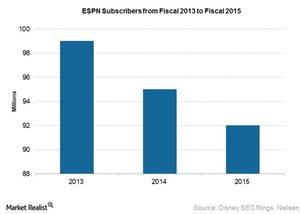 Are Skinny Bundles the Way Forward for the Media Sector?
By Shirley Pelts

Mar. 2 2016, Updated 1:07 p.m. ET
ESPN subscribers and Sling TV
In this part of the series, we will look at the rationale behind pay-TV operators like Dish Network's (DISH) and telecommunication companies like Verizon Communications' (VZ) skinny bundle offerings. We will explore whether skinny bundles could be the way forward for the media sector.
It is interesting to note that the Walt Disney Company (DIS) stated on its 1Q16 earnings call that it believes that ESPN's inclusion in Sling TV is attracting Millennials back to pay-TV.
Article continues below advertisement
ESPN is a part of Sling TV, with Sling TV priced at $20 per month. As the graph above shows, ESPN lost 3 million subscribers from fiscal 2014 to fiscal 2015. In fiscal 2015, ESPN had 92 million subscribers compared to 95 million subscribers in fiscal 2014. However, Disney stated during its fiscal 1Q16 earnings call that ESPN subscribers have increased over the last few months.
Why skinny bundles?
One of the reasons for consumers moving away from pay-TV has been the cost factor. While a cable connection costs anywhere from $100–$150 per month, skinny bundles like Dish's Sling TV is far cheaper at $20 per month. Another reason for companies like Dish offering skinny bundles is the rise of pure-play OTT (over-the-top) operators like Netflix (NFLX).
Netflix's plans average ~$10 per month. Millennials, or people in the 18–34 age group, tend to prefer OTT operators like Netflix over Dish due to Netflix's original, ad-free content. Many of these Millennials have either cut the cord on pay-TV or have never subscribed to pay-TV.
Pay-TV operators like Dish are offering a skinny bundle of channels to woo these Millennials back to pay-TV. However, media companies have been reluctant to license their channels to skinny bundles. Dish makes up 0.12% of the Vanguard Growth ETF (VUG). For an investor interested in the information technology sector, VUG holds 29.6% of the sector.
In the next part of this series, we will explore why media companies have been reluctant to license their channels to skinny bundles like Sling TV.