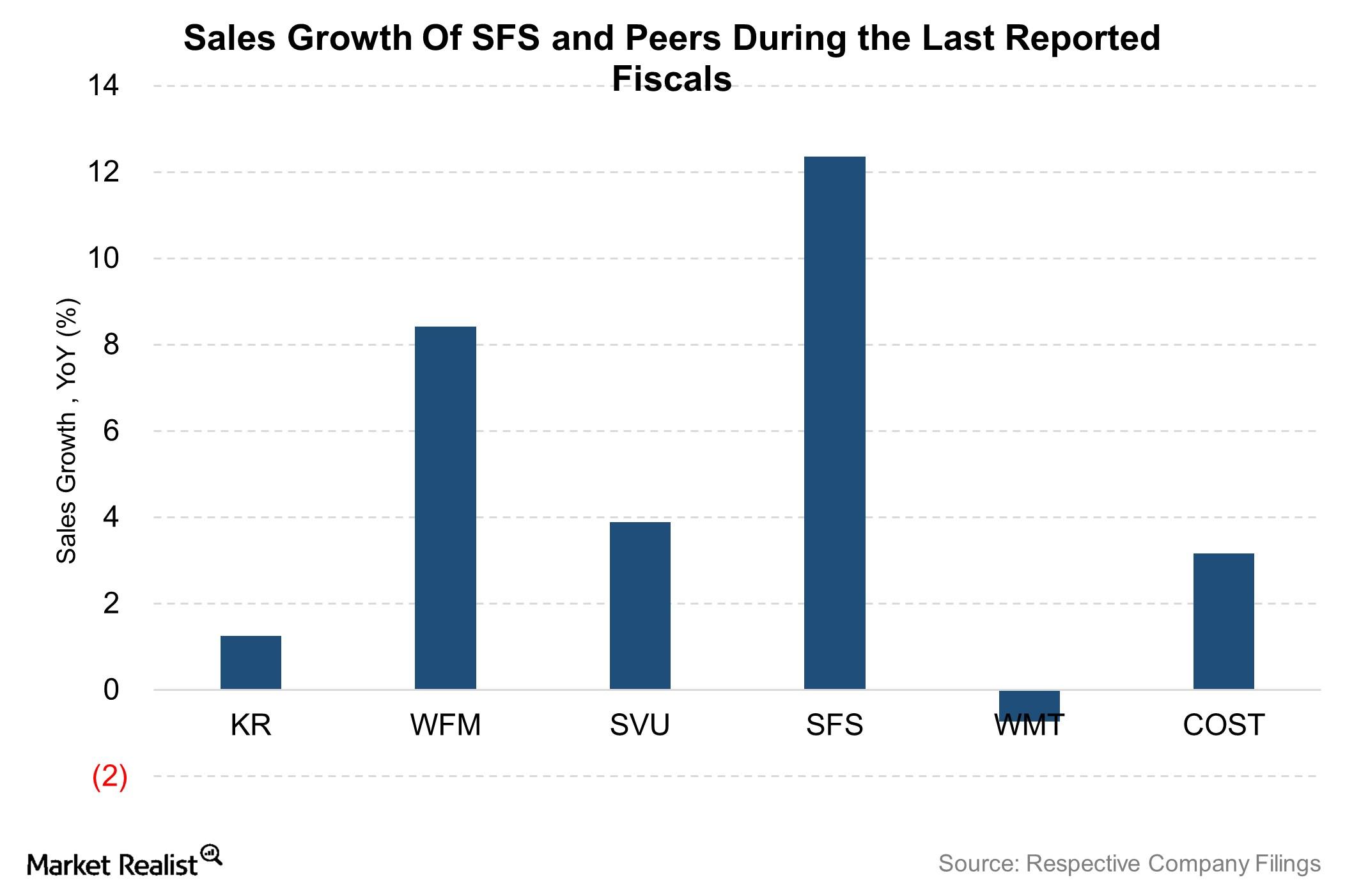 What Led to Smart & Final Stores' 12.4% Sales Growth in 2015?
By Sonya Bells

Aug. 18 2020, Updated 5:27 a.m. ET
A closer look at Smart & Final Stores' performance in fiscal 2015
Smart & Final Stores (SFS) reported a sales increase of 12.4% to $4.0 billion in fiscal 2015, beating the consensus estimate by $5.2 million. The sales increase was driven by a 4.5% growth in comparable store sales, an additional 53rd week in 2015, and the sales contributions of 20 new Extra! stores and two new Cash & Carry stores during the year. Adjusted net income increased 21% to $56.3 million, or $0.73 per diluted share, beating the consensus estimates by $0.03.
Article continues below advertisement
While talking about the performance of the company in fiscal 2015, Mr. David Hirz, president and chief executive officer of SFS, stated, "2015 was an exceptional year for Smart & Final Stores." He continued, "Our focus on execution positioned us to deliver strong top-line sales growth and record bottom-line financial performance. We completed our 2015 store development plan, which included expanding our Smart & Final Extra! store base by nearly 30% and adding two new Cash & Carry stores. Additionally, we continued the successful roll-out of key merchandising initiatives, which helped contribute to our 26th year of positive comparable store sales over the past 27 years."
Comparable store sales stayed strong in fiscal 2015
Same-store sales were up 4.5% in fiscal 2015, primarily on account of increased transaction counts (up 4.4%) in both the Smart & Final and Cash & Carry banners. The average transaction size, however, was negatively affected by deflationary pressure that persisted through the second half of 2015. The company's merchandising initiatives in areas like organic products and bulk foods helped to offset short-term deflationary pressure and continued to support the transaction counts by attracting new customers and building the basket size.
SFS versus peers
SFS is a relatively small company in the overall food retail space. SFS's trailing-12-month sales of $4.0 billion are about 25% of Whole Foods Market's (WFM) sales and less than 4% of Kroger's (KR) sales. Compared to mass merchandisers, SFS has revenue of about 3% of Costco's (COST) revenue and less than 1% of Walmart's (WMT) revenue. SFS constitutes 0.26% of the SPDR S&P Retail ETF (XRT) and 0.05% of the iShares Russell 2000 Value ETF (IWN).
While the company delivered a strong performance in fiscal 2015, it has further plans for 2016 to continue on its growth track.