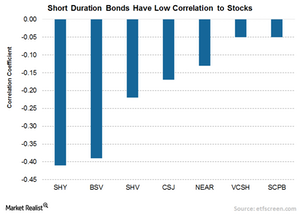 How Short Duration Bonds Can Provide Stability
In times like these, the temptation for investors is strong to run to the sidelines and exit the market. But it is very difficult to time the market and miss out on rallies if – or when – they occur. Instead, look for potential opportunities that may help strengthen a portfolio, and seek some stability and growth in these constantly changing markets.
Specifically, here are three actions to consider in these markets:
Article continues below advertisement
Seek ballast with short duration bonds
Shorter duration bonds, or bonds that mature within three years, can potentially offer a portfolio stability during market volatility. Historically, we have seen short duration bonds have a lower correlation to stocks, which can be a beneficial ballast when equity markets are down. Additionally, bonds typically generate regular income for investors, which can potentially help stabilize portfolios when equity markets decline.
Market Realist – Short duration bonds offer stability and regular income
Short-term bonds can potentially offer stability to a portfolio given today's historically low yields and impending rate hikes. Short-term bonds are the least volatile because they are less sensitive to interest rates than portfolios with longer durations. They usually pay the lowest interest rates.
Article continues below advertisement
Short duration bonds have low correlation to stocks
Historically, short duration bonds have tended to have a low correlation to stocks. The graph above shows the correlation of the SPDR S&P 500 ETF Trust (SPY) with various short-duration bond ETFs like the iShares Short Maturity Bond ETF (NEAR), the Vanguard Short-Term Bond ETF (BSV), the SPDR Barclays Short Term Corporate Bond (SCPB), the iShares Barclays Short Treasury Bond Fund (SHV), and the iShares Barclays 1-3 Year Credit Bond Fund (CSJ). Most of the short-term bonds have a low or negative correlation with SPY. As the stock goes down, the short-term bonds go up, thus providing diversification benefits to investors.
Stable returns
Short duration bonds also offer stable returns over a period of time. The iShares Short Maturity Bond ETF (NEAR) provided a 0.63% return in the last one year while the iShares 1-3 Year Credit Bond (CSJ) gained 1.1%. This is a much better performance compared to a loss of 0.48% for the SPDR S&P 500 (SPY).