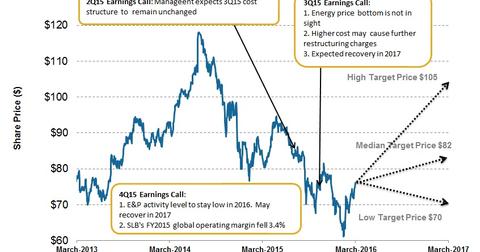 What Schlumberger Is Saying after Its 4Q15 Earnings
By Alex Chamberlin

Updated
The word from Schlumberger's CEO
Schlumberger's (SLB) management expects crude oil demand to rise and supply to fall in the medium term. In its 4Q15 press release, Schlumberger's Chairman and Chief Executive Officer, Paal Kibsgaard, stated that the company will "remain constructive in our view of the market outlook in the medium term, and continue to believe that the underlying balance of supply and demand will tighten, driven by growth in demand, weakening supply as E&P investment cuts take effect, and by the size of the annual supply replacement challenge."
Article continues below advertisement
Can cost restructuring help?
Schlumberger's management continued to restructure its workforce by reducing headcount in 4Q15. In 2015, it spent approximately $500 million on technology acquisitions. These steps will likely add efficiency and result in cost savings going forward. Regarding this, CEO Paal Kibsgaard stated in the company's 4Q15 press release that "throughout the year, we took a number of actions to streamline and resize our organization as we continued to navigate the downturn," specifying that "in continuing to accelerate the benefits of the transformation program across both our Technologies and GeoMarkets in 2016, we believe we will emerge as a stronger company relative to industry peers and competitors once the price of oil and the market conditions in our industry turnaround."
Analyst targets for Schlumberger
While the lowest analyst target price for Schlumberger is $70, the highest is $105. This means that the median target price surveyed among sell-side analysts for SLB is $82. Schlumberger is currently trading near $72.7, implying ~13% upside at its median price. By comparison, Oil States International (OIS), Schlumberger's peer, received a $29 median target price. Relative to its current price of ~$30, this implies a 1% upside.
SLB is 7.8% of the Vanguard Energy ETF (VDE), but for investors looking for exposure to the industry, VDE has 15.8% exposure to oil and gas equipment and services.