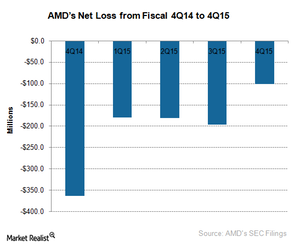 Rumors Surround Intel and AMD as NVIDIA Licensing Deal Nears End
By Puja Tayal

Mar. 23 2016, Published 11:22 a.m. ET
Licensing rumors
There's been no shortage of news surrounding the expiry of the licensing deal between NVIDIA (NVDA) and Intel (INTC). As the deal nears its end, rumors have begun to circulate that Intel is in talks to sign a similar licensing deal with NVIDIA's archrival Advanced Micro Devices (AMD).
In this series, we'll take a look at the implications for all parties if this rumor comes true. We'll also look at other speculations surrounding AMD.
Article continues below advertisement
What is the rumor about?
According to Barron's citing a Bloomberg private report, Intel is in talks with AMD over a licensing deal for the latter's graphics technology. However, the report didn't state the details as to what patents would be licensed in such an agreement.
However, the initial catch was that the article wasn't available on Bloomberg's site, and Barron's noted that no actual report was available on the site to support the news. Although the speculation had no strong backing, investors and analysts responded to it.
When the Bloomberg article was released on March 17, 2016, AMD shares rose 6.9%, while rival NVIDIA's shares fell 1%.
Good news for AMD
AMD shares rose due to just the rumor of this news, as the company is suffering from losses and is in dire need of cash to push growth. A potential deal with Intel could infuse much-needed cash into AMD and bring in a steady source of revenue.
The cash-strapped chipmaker is in the limelight, with many rumors floating around its competitors and customers. Apart from the licensing deal rumor, there's also speculation that AMD's customer Sony (SNE) is looking to upgrade its Playstation 4 with an advanced application processing unit. We'll look into this later in the series.
In the next part of the series, we'll examine the impact of this news on NVIDIA. You can gain exposure to this speculation by investing in the SPDR S&P 500 ETF (SPY), which has holdings in 20 industries, including technology. It has 0.09% exposure in NVDA, 0.84% in INTC, and 0.43% in QCOM.