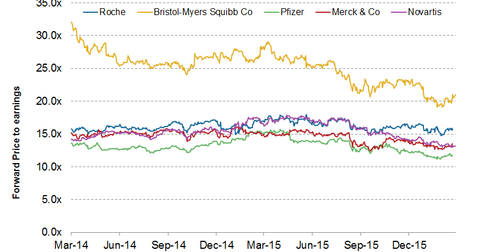 Why Roche Is Trading at a Discount on a Price-to-Earnings Basis
By Jillian Dabney

Updated
Roche's valuation
On March 7, 2016, Roche Holding (RHHBY) was trading at a forward PE (price-to-earnings) multiple of 15.25x, which appears to be at a discount when compared with Bristol-Myers Squibb (BMY), which was trading at a forward PE multiple of 21.05x. By comparison, Novartis AG (NVS), Merck & Company (MRK), and Pfizer (PFE) were trading at 13.15x, 13.56x, and 11.74x, respectively, of their forward earnings as of the same day.
Article continues below advertisement
Industry performance
Median and average trailing PE for the pharmaceutical industry stood at about 24.1x and ~21.5x, respectively, so Roche's trailing PE of 24.09 is higher than the industry average. Perhaps investors are more optimistic about the growth prospects of the company, and we should note that Roche has a robust pipeline of oncology and immunology drugs.
The PEG (PE-to-growth) ratio for Roche was 1.94x, whereas average PEG for the industry stood at 2.14x. Considering Roche's future growth prospects through the pipeline, it seems to be attractive at current forward PE multiple.
Reasons for Roche's premium valuation
Roche is trading at a premium when compared with Pfizer, Novartis, and Merck. Roche's pharmaceuticals division accounts for almost ~78% of its total revenue. Oncology revenue is the major contributor to the pharmaceutical segment, putting ~63% into total pharmaceutical revenue. Immunology fetched ~17% for this segment. Oncology drugs, being costlier, offer expanded margins to the company.
Please note that the success rate of Roche is above industry standards and one of the company's major valuation catalysts.
We should also note that Roche invests heavily in the early stage molecules. As a result, new molecular entities entering in the pre-clinical study offer more to the company. Roche has a robust pipeline of candidates—it might launch eight new molecules within the next three years.
With the impressive payout ratio of 60%, the company has proven itself as an attractive bet. But with changing market dynamics and the count of the late-stage pipeline products, the share price of biotechnology companies like Roche fluctuates. As a result, it's often risky to directly invest in pharmaceuticals and biotech companies. To remain on the comparatively safer side, you might check out the Vanguard Total World Stock Index Fund (VT), which has 0.45% of its total holdings in Roche's stock.