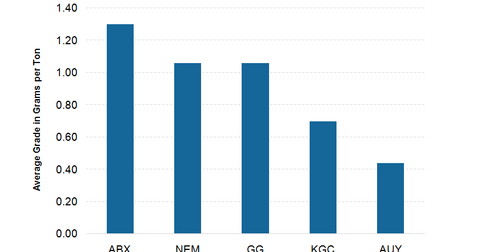 How Does Reserve Grade for Miners Impact Costs?
By Anuradha Garg

Updated
Reserve grade
According to Mining.com, "The grade or concentration of a mineral or metal in ore directly affects costs associated with mining as well as its subsequent beneficiation and extraction of precious components." All other things being equal, a higher grade means lower total cost per ounce. The average grade of ore is the average proportion of gold contained in the ore at a particular site.
Article continues below advertisement
Highest average grade
Barrick Gold's (ABX) five core mines, which are expected to produce 70% of its volumes for 2016, have an average grade of 1.9 grams per ton. The average grade of all of Barrick's mines is 1.3 grams per ton. The company boasts one of the highest grades in the industry. This is probably the reason for its relatively lower costs compared to its peers.
As we saw in the previous article, Goldcorp's (GG) reserves declined year-over-year (or YoY), but its grades improved by 13% YoY to 1.06 grams per ton.
Newmont Gold's (NEM) gold reserve grades improved slightly from last year's 1.04 grams per ton to 1.06 grams per ton in 2015.
Lower reserve grade
Yamana Gold's (AUY) grades are quite low compared to many of its peers. It had a reserve grade of just 0.44 grams per ton as of December 31, 2015. This is probably one of the reasons for its higher operating costs.
Kinross Gold (KGC) also has relatively lower reserve grades at just 0.7 grams per ton.
Mining-based leveraged ETFs such as the ProShares Ultra Silver ETF (AGQ) and the Direxion Daily Gold Miners ETF (NUGT) are other ways to get exposure to precious metal prices.
While grade is one factor that impacts gold miners' costs, there are many other variables. In the next part of our series, we'll take a look at the costs for these gold miners.