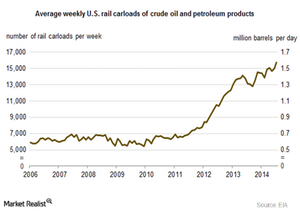 Record US Crude Oil Inventory Led to a New Storage Space
By Gordon Kristopher

Mar. 2 2016, Published 9:22 a.m. ET
US crude oil inventory and rail cars 
The current crude oil stocks are 16% more than the levels last year. They're also at a 34-year high. To learn more about crude oil stocks, read the previous part of the series. The record US crude oil inventory led to the emergence of rail cars as the new storage space. The transport of crude oil through railroads hasn't been profitable due to lower crude oil prices. Crude oil prices have fallen 68% since June 2014. As a result, many rail cars are idle.
Article continues below advertisement
Storage costs of rail cars 
So, many oil producers and traders are eyeing an opportunity to store crude oil in the rail cars. They can benefit from the contango market. Some traders find it risky and some favor it. Storing crude oil in underground salt caverns could cost as much as $0.25 per barrel for each month, according to surveys from the Wall Street Journal. However, it would cost $0.50 per barrel for each month if crude oil was stored in rail cars. Crude oil stored in oil tankers would cost by $0.75 per barrel. It would cost more each month. The rail car storage capacity is 500–700 barrels. This is less than cavern and crude oil tankers. Crude oil storage costs have been mounting due to the rise of crude oil storage utilization. For more on this, read How US Crude Oil Storage Utilization Has Reached 60% of Capacity. Also, read Crude Oil Storage Costs Rose 9 Times, US Crude Tests New Limits. There are about 20,000 rail cars that can be used to store crude oil.
The rise in US crude oil production between 2012 and 2015 led to the surge in the crude oil transport by rail. Read Is $40 the New $70 for Shale Crude Oil Producers? to learn more about the US crude oil production. As we mentioned previously, record low oil prices led to the decline in the usage of rail cars for shipment. It costs between $1,500 and $1,700 per car per month. However, the contango market gives rail cars a storage opportunity.
It benefits oil storage and transportation companies like DCP Midstream Partners (DPM), Williams Companies (WMB), Spectra Energy (SE), Energy Transfer Partners (ETP), and Kinder Morgan (KMI). It also benefits oil tankers like Frontline (FRO), Nordic American Tankers (NAT), Teekay Tankers (TNK), DHT Holdings (DHT), and Tsakos Energy Navigation (TNP). 
The volatility in the oil prices impacts ETFs and ETNs like the ProShares UltraShort Bloomberg Crude Oil ETF (SCO), the First Trust Energy AlphaDEX Fund (FXN), the Vanguard Energy ETF (VDE), and the VelocityShares 3x Long Crude Oil ETN (UWTI).
In the next part of this series, we'll discuss how key oil producers led to crude oil oversupply in 2015. We'll discuss whether or not it will continue in 2016.