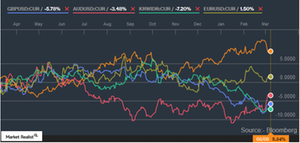 What Was the Reason for eBay's Sluggish Growth in 2015?
By Parker Thomas

Updated
Currency headwinds
E-commerce giant eBay's (EBAY) shares have seen a fall of 16.0% over the last three months. Additionally, the company's recent quarterly disclosure drove its shares down by 11%. The reason could be eBay's lukewarm performance during 4Q15.
eBay has a strong cross-border business. Approximately 60% of its business is international, which is highly exposed to currency translation from the euro, the British pound, the Australian dollar, and the Korean won due to the stronger US dollar (UUP).
If we compare today's rates for these currencies with their 2015 rates, on average, each currency saw a fall of around 5% YoY (year-over-year), which in turn brought the company's top line down by 3% YoY as of the recent quarter.
During the company's 4Q15 call, eBay's CEO Devin N. Wenig said,"The continuing strengthening of the U.S. dollar has really impacted the exports of U.S. goods which was one of our biggest export corridors."
Article continues below advertisement
Cyberattack
Apart from this macro factor, in 2014, eBay faced some issues related to its online web portal that rolled out to 2015's earnings. eBay was the victim of a cyberattack, wherein hackers infiltrated its online marketplace to gain access to the personal data of 145 million customers, according to the company.
As a result, customers needed to change their passwords to prevent unauthorized access. Data compromise has occurred at both big retailers and Internet giants in the past, including Target (TGT), Home Depot (HD), Google (GOOG), and Apple iCloud (AAPL).
Google Panda
In 2014, Google (GOOG) made some changes to its search algorithm and came up with a new version called Panda. The primary objective was to improve the quality of search results by increasing rankings for sites on the basis of good content and references to other websites.
However, the Panda updates were not favorable to eBay's web portal, which was no longer showing up in search results, even after firing thousands of queries. As a result, eBay was getting fewer customers to its website than expected.