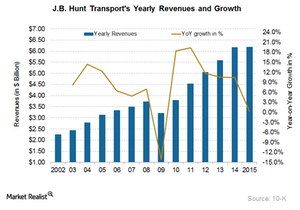 A Quick Overview of J.B. Hunt Transport Services
By Samuel Prince

Updated
Overview of J.B. Hunt Transport
Headquartered in Arkansas, J.B. Hunt Transport (JBHT) offers the transportation of full truckload containerized freight. The company renders these services through company-controlled revenue equipment and company drivers or independent contractors. It also provides tailor-made cargo movement, revenue equipment, labor, systems, and delivery services through long-term contracts.
J.B. Hunt Transport's local and home delivery services are rendered through a network of cross-dock service centers spread across the US. In addition, it offers flatbed, refrigerated, less-than-truckload (or LTL), and other specialized equipment through a network of third-party carriers.
The company's operating revenues grew from $2.2 billion in 2002 to $6.1 billion in 2015, representing a CAGR (compound annual growth rate) of 8.1%. JBHT's business is somewhat seasonal, as its freight volumes surge from August through early November.
Article continues below advertisement
J.B. Hunt Transport had 21,562 employees as of December 31, 2015. It also has arrangements with more than 1,500 independent contractors to transport freight in the company's trailing equipment. Investors should note that none of JBHT's employees are represented by unions or covered by collective bargaining agreements. This is in sharp contrast with the railroad industry, where approximately 80% of the employees are unionized. The company operates with a fleet of 12,500 owned tractors and trucks.
Competition
J.B. Hunt Transport (JBHT) operates in a highly fragmented and competitive freight market. Hence, the company faces tough competition in each of the four segments. We'll talk about its segment-wise competitors in the segmental discussion.
Swift Transportation (SWFT), Landstar System (LSTR), SAIA (SAIA), and Knight Transportation (KNX) compete with JBHT in each of the latter's highest revenue-generating segments. We will discuss this later in the series.
ETF holdings
The SPDR S&P Transportation ETF (XTN) holds 2.73% in JBHT. If you want to indirectly own trucking stocks, this ETF invests 26.09% in trucking companies.
Before learning more about J.B. Hunt's segments, let's become familiar with some of the key terminologies used in the road transport industry.