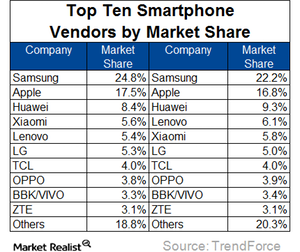 Qualcomm's Biggest Challenges in China
By Puja Tayal

Mar. 24 2016, Updated 5:04 a.m. ET
Challenges in Qualcomm's licensing business
In the previous part of this series, we saw that Qualcomm (QCOM) has changed its licensing structure. It has also set up a compliance program to boost revenue. But there are certain challenges that could deter this growth.
Article continues below advertisement
ZTE issue
China-based handset maker ZTE has come under scrutiny for breaching export agreements by supplying US-made high-tech components to Iran. The United States Department of Commerce has banned sales of any US components to ZTE, according to a Reuters article. This will negatively impact ZTE suppliers, including Qualcomm, Broadcom (AVGO), Microsoft (MSFT), and IBM (IBM).
Impact on Qualcomm
According to Merrill Lynch analyst Tal Liani, the ZTE ban would equate to $878 million in lost revenue for Qualcomm's chipset business in fiscal 2016.
There's also a possibility that this issue may be aggravated if China retaliates by putting restrictions on US companies. China accounts for more than 50% of Qualcomm's annual revenue and about $13 billion in licensing revenue. Just a year before, the company settled an antitrust claim by paying a fine of $975 million. Any problems with China would prove hazardous for Qualcomm.
Other lawsuits
Recently, Qualcomm paid a $7.5 million fine to the U.S. Securities and Exchange Commission for engaging in corrupt business practices with China. The company hired relatives of government officials serving two Chinese telecommunications companies in return for a chip and licensing contract.
The company is also fighting a lawsuit with LG Electronics over royalty payments. LG claims to have overpaid royalties to Qualcomm and is asking for the excess payment to be returned. Qualcomm didn't report $100 million in licensing fees it received from LG, which led to a 12% YoY (year-over-year) decline in Qualcomm's licensing revenue.
Qualcomm is also engaged in probes with the United States, Europe, and South Korea (EWY).
With all the challenges surrounding the smartphone market, Qualcomm is looking to grow in adjacent markets.