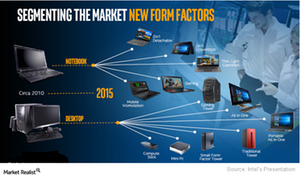 What Does a Possible Licensing Deal with AMD Mean for Intel?
By Puja Tayal

Dec. 4 2020, Updated 10:53 a.m. ET
How will Intel benefit from AMD GPUs?
We've learned that NVIDIA (NVDA) will lose its steady stream of revenue from licensing if the Advanced Micro Devices (AMD) and Intel (INTC) rumor comes true. While NVIDIA was never a direct competitor to Intel, AMD is Intel's only competitor in the data center and PC processor market.
How will Intel benefit from a licensing agreement with AMD?
Article continues below advertisement
Cost-efficient AMD GPUs
Intel's own integrated graphics solutions are performing well in the low end of the graphics market. How will it use AMD GPUs (graphics processing units)? It could possibly use them in its data center server chips. Moreover, it could benefit from AMD's complete GPU lineup, which is competitive and cheaper than NVIDIA's GPUs.
A shield against NVIDIA
Intel can also use AMD's patents as a shield if NVIDIA decides to file patent lawsuits once again after the licensing deal expires in March 2017.
Intel's efforts in the gaming market
Intel is looking to grow through segmentationin the slowing PC marketIntel is looking to grow through segmentationin the slowing PC market Intel is looking to grow through segmentationin the slowing PC market. The company aims to offer user-specific desktops and notebooks.
Recently, Intel launched the Skull Canyon NUC (next unit of computing), a mini-PC that offers a superior gaming performance. With this, it aims to stand in-line with Microsoft's (MSFT) Xbox and Sony's (SNE) Playstation.
AMD is a key player in the gaming console market, supplying GPUs and APUs (application processing units) to Xbox and Playstation. Getting access to AMD's GPUs will enable Intel to strongly position itself in the gaming market and serve both early-stage and experienced gamers.
AMD's newly launched XConnect is a good example of an integration of Intel's, AMD's, and Razer's technology. We'll look closer at this technology in the next part of the series.
The Technology Select Sector SPDR ETF (XLK) invests in all types of technology companies. It has 9.7% exposure in semiconductor stocks, including 10.2% exposure in MSFT, 3.1% in INTC, and 0.43% in NVDA.