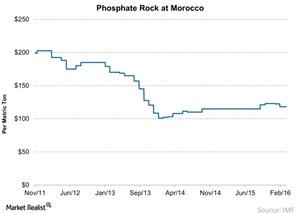 Why Phosphate Producers Benefit from Low Phosphate Rock Prices
By Adam Jones

Mar. 16 2016, Published 7:22 a.m. ET
Phosphate rock
Phosphate rock prices have moved laterally since February 2016. Phosphate rock is one of the main input materials required for manufacturing phosphate fertilizers such as DAP and MAP (diammonium phosphate and monoammonium phosphate, respectively). It's important for companies such as Mosaic (MOS), PotashCorp (POT), Israel Chemicals (ICL), and Agrium (AGU) to track prices of phosphate rock, as it takes about 1.6–1.7 metric tons to produce 1 metric ton of DAP, according to Mosaic (MOS).
Article continues below advertisement
Unchanged prices
The average price of phosphate rock for the week ending March 11 stood at $114 per metric ton, remaining unchanged from the previous week. However, the price of phosphate rock oscillated between the low of $97 per metric ton and the high of $132 per metric ton during the week, according to Mosaic (MOS). You can invest in Mosaic through the SPDR S&P North American Natural Resources ETF (NANR), which invests about 1.6% of its portfolio in Mosaic.
Morocco is the largest producer of phosphate rock. According to the International Fertilizer Industry Association, Morocco's share of global phosphate rock production was 49% in 2011.
Phosphate rock prices have fallen over the last year. In the corresponding week a year ago, the average phosphate rock price was $123. With downward pressures on phosphate fertilizer prices and concerns over the outlook for prices, companies have curtailed their production recently.
However, low phosphate rock prices, coupled with rising phosphate prices, mean that phosphate producers stand to gain, ceteris paribus.
In the next part of this series, we'll look at ammonia prices.