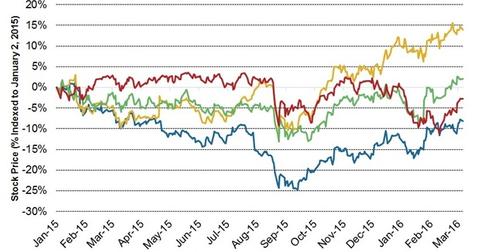 P&G's Stock Rose 1.6% after Hipoglós Sale to Johnson & Johnson
By Penny Morgan

Updated
JNJ's stock fell in comparison to P&G and S&P 500 Index
Procter & Gamble's stock price rose 1.6% to $82.55 after it announced the sale of its Hipoglós diaper rash cream to Johnson & Johnson Consumer (JNJ) on March 2, 2016. The benchmark S&P 500 Index (SPY) (IVV) (VOO) also rose by 0.4% on March 2, 2016. In comparison, JNJ's stock price fell 0.2% to $107.04.
Article continues below advertisement
P&G's stock movement
Procter & Gamble's stock has consistently declined since the beginning of 2015. It fell almost 17.2% to $68.06 on September 14, 2015, from $82.24 on July 17, 2015. The fall was primarily due to currency headwinds and the fall in global markets, particularly in the Asia-Pacific region. Although P&G has recovered since then, it's still far from its 2015 peak of $91.62. It reached the peak on January 22.
After P&G announced the sale of its Escudo soap brand in Mexico and other Latin American countries to Kimberly-Clark's (KMB) Mexican subsidiary on February 22, 2016, Kimberly-Clark and P&G rose 0.7% to $130.45 and 0.4% to $81.13, respectively.
Share repurchases
P&G expects to retire shares at a value of ~$8 billion to $9 billion through a combination of direct share repurchase in 3Q16. These shares were supposed to be exchanged during the Duracell sale to Berkshire Hathaway's (BRK-B) subsidiary Marmon Group transaction completion as per comments by CFO Jon Moeller during 2Q16 earnings.
Improving local profit margin
P&G expects to deliver core operating income growth in the mid-to-high single digits. In India, P&G de-prioritized unprofitable lines of business that negatively impacted short-term growth but will improve local profit margin significantly. This will help in strong operating results and strengthen margins.