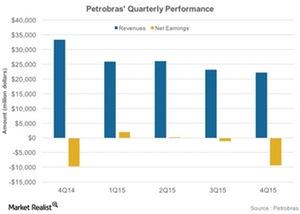 Petrobras Posted a Loss of $9.4 Billion in 4Q15
By Maitali Ramkumar

Mar. 25 2016, Updated 5:34 p.m. ET
Petrobras overview
Petrobras (PBR) is in the midst of tough times due to lower oil prices. Before discussing its latest results, let's have a look at what to expect from this series on Petrobras.
In this series, we will provide you an overview of Petrobras's operations, financials, and market performance. In the next few parts, we will examine Petrobras's (PBR) latest stock price rise and look at why the majority of analysts rate PBR as a "hold." Then we'll evaluate upstream and downstream project portfolios and Petrobras's (PBR) leverage and cash flow position. We'll follow this by examining the company's valuations and comparing Petrobras with its peers. Finally, we will conduct correlation analysis of Petrobras's stock and oil and natural gas prices. Let's begin by examining PBR's fourth quarter results.
Article continues below advertisement
Petrobras's 4Q15 results
Petrobras (PBR) posted a net loss of $9.4 billion in 4Q15 compared to a loss of $9.7 billion in 4Q14. Lower oil prices led to many assets becoming uneconomical leading to impairments to the tune of $11.9 billion. This led to total impairments of $12.9 billion in 2015 of which $9.8 billion was in the upstream segment. Besides, in 4Q15, the combined interest expense and foreign exchange loss of $1.7 billion weighed down earnings.
PBR's net loss was mainly led by a loss in the exploration and production segment. This was further aggregated by losses in the gas and power, distribution, and biofuels segments. The only segment that posted positive earnings was the refining, transportation, and marketing segment. We'll discuss the segment-wise analysis later in the series. Petrobras (PBR) reported EPS of -$0.72 in 4Q15.
PBR's peers like ENI SPA (E), Suncor Energy (SU), and Total SA (TOT) also posted lackluster results in 4Q15 mainly due to lower crude oil prices. If you are looking for a portfolio comprising of large companies, you can consider the iShares Core S&P Total U.S. Stock Market ETF (ITOT). The ETF has ~6% exposure to energy sector stocks.