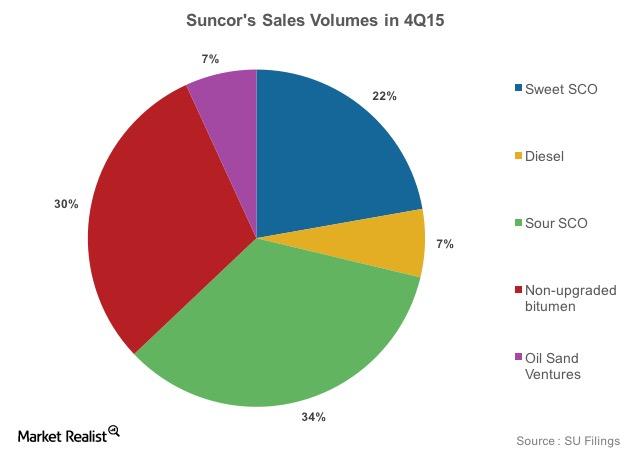 Performance of Suncor's Upstream Segment in 4Q15
By Maitali Ramkumar

Mar. 15 2016, Updated 9:06 p.m. ET
Suncor's upstream segment
Suncor Energy's (SU) Oil Sands segment sold 451 Mbpd (thousand barrels per day) of upgraded products (synthetic crude oil, or SCO, and diesel) and non-upgraded bitumen in 4Q15 compared to 405 Mbpd in 4Q14. This also includes SU's share in oil sands ventures such as Syncrude.
The higher volumes sold are on the back of strong production of upgraded and non-upgraded products. The total production (including oil sands ventures) rose from 419 Mbpd in 4Q14 to 471 Mbpd in 4Q15. Plus, Base and In-Situ bitumen production rose in the fourth quarter due to reliable operations and cost-effective de-bottlenecking activities.
Article continues below advertisement
In the Exploration and Production (or E&P) segment, Suncor's production fell to 112 Mboed (thousand barrels of oil equivalent per day) in 4Q15 from 138 Mboed in 4Q14. This was due to natural declines in the Terra Nova and Hibernia fields coupled with lower production from the Buzzard and Libyan fields.
Suncor's production mix
Suncor's oil sand operations saw an increase in production of sweet SCO due to lower planned maintenance in 4Q15 compared to 4Q14. Sweet SCO fetches higher realizations compared to sour SCO. Suncor sold 283 Mbpd of upgraded products in 4Q15, of which 100 Mbpd was sweet SCO, 154 Mbpd was sour SCO, and 29 Mbpd was diesel.
In the E&P segment, liquids accounted for 96% of the production mix. The production mix of Suncor's peers ExxonMobil (XOM), BP Plc (BP), and Chevron (CVX) have liquids to the tune of 59%, 53%, and 66%, respectively. If you're looking for exposure to integrated energy sector stocks, you can consider the iShares North American Natural Resources ETF (IGE). IGE has ~25% exposure to integrated energy stocks.
SU's realizations fell
Oil prices have fallen sharply in the past few quarters. On an average, SU's realizations from its oil sand operations fell to $42 Canadian per barrel in 4Q15 from $70 Canadian per barrel in 4Q14.
Suncor's realizations from sweet SCO and diesel fell to $61 Canadian per barrel in 4Q15 compared to $89 Canadian per barrel in 4Q14. Similarly, sour SCO and bitumen fetched $33 Canadian per barrel in 4Q15 compared to $62 Canadian per barrel in 4Q14.
SU's average hydrocarbon realizations fell from $82 Canadian per boe (barrels of oil equivalent) in 4Q14 to $53 Canadian per boe in 4Q15.