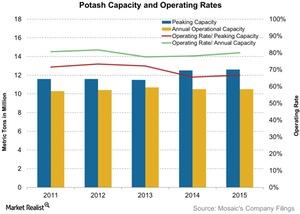 What Is Peaking Capacity and Why Is It Important for Mosaic?
By Adam Jones

Mar. 29 2016, Published 2:16 p.m. ET
Potash capacity
Mosaic (MOS) is one of the four largest producers of potash in the world. The company primarily operates its potash production business in Saskatchewan, Canada. PotashCorp (POT) also has its facilities primarily located in the potash-abundant province.
Article continues below advertisement
Annual operational capacity
Mosaic had an annual operational capacity of 10.5 million metric tons, of which the company produced 8.4 million tons of finished product, or an operating rate of 67%, as of the last day of 2015.
Mosaic's operating rate over the past five years has been 70%. This has fallen in the last two years, primarily due to an increase in capacity. The company had a peaking capacity of 12.6 million tons in 2015, a rise from 11.5 million tons in 2013.
Why is peaking capacity important?
Peaking capacity refers to production capacity that is reserved to meet demand during peak periods. Peaking capacity is an important aspect in terms of sales allocation among members of Canpotex.
Canpotex is an export association of potash producers in Saskatchewan, including Mosaic, PotashCorp, and Agrium (AGU). Mosaic's expansion at the Colonsay mine helped the company to increase its peaking capacity, which in turn increased its Canpotex sales entitlement from 39.9% to 40.6% effective January 1, 2015. Canpotex uses proven peaking capacity to determine a company's share in sales.
Since other members of Canpotex are also actively increasing their peaking capacities, Mosaic's share dropped from 40.6% to 39.9% effective January 1, 2016. Israel Chemicals (ICL), which is also held by the VanEck Vectors Agribusiness ETF (MOO), is not part of Canpotex.
Curtailment
Over the years, Mosaic has gradually added capacity to its Potash segment. In 2014, its capacity fell as the result of its ceasing its MOP production operations at Carlsbad, New Mexico.
In 2013, Mosaic's company filings outlined its future expansion of its potash capacity. It expects its capacity to reach 14.1 million tons and its peaking capacity to reach 16.1 million tons by 2021.
Next, we'll take a look at where and to whom Mosaic sells its products.