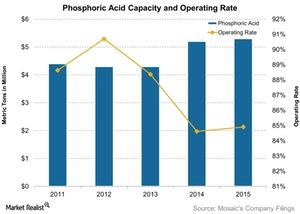 How Mosaic's Phosphate Capacity Has Evolved
By Adam Jones

Updated
Second-largest capacity
Mosaic (MOS) is one of the largest producers of phosphate crop nutrients in the world. Its four active phosphate mines are located in Florida. Together, they add up to an annual operational capacity of 17.2 million tons, which Mosaic claims is the second-largest capacity in the world. The company with the largest capacity is Office Chérifien des Phosphate, which is located in Morocco.
It takes about 1.6–1.7 tons of phosphate rock to produce one ton of DAP. We'll discuss capacity in more detail in the next part of this series.
Article continues below advertisement
Phosphoric acid capacity
We saw earlier that Mosaic's phosphate products such as DAP, MAP, MicroEssentials, and animal feed require phosphoric acid, which the company produces internally. As of 2015, Mosaic had the operational capacity to produce 5.3 million tons of phosphoric acid.
Of this capacity, the company produced 4.5 million tons, 85% of its total capacity. Over the past five years, Mosaic's phosphoric acid operating rate has averaged 87%.
The final product
Mosaic had an annual operational capacity of 11.7 million tons of processed phosphates (DAP, MAP, MicroEssentials, and animal feed) in 2015, as you can see in the chart above. Of this, the company produced 9.5 million tons of phosphate concentrates, which was about 81% of its total capacity. Over the past five years, Mosaic's processed phosphate operating rate has averaged 83%.
Capacity addition
Year-over-year (or YoY), Mosaic's operating rates have fallen, primarily as a result of capacity additions. Meanwhile, its absolute production of phosphoric acid and processed phosphate has grown YoY in 2015.
Mosaic recently added phosphate capacity, which was the result of an acquisition from CF Industries (CF). Mosaic, PotashCorp (POT), and Agrium (AGU) have all planned capacity additions. This is the result of growth in demand anticipation in the industry (XLB).
Next, let's turn our attention to the second most important segment for Mosaic: the Potash segment.