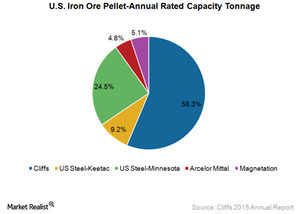 Why the Outcome of the ArcelorMittal Contract Looms Large for Cliffs
By Anuradha Garg

Mar. 18 2016, Updated 3:05 p.m. ET
ArcelorMittal contract
ArcelorMittals's (MT) iron ore pellet contract with Cliffs Natural Resources (CLF) comes up for negotiation in late 2016 and early 2017. More than 50% of Cliffs' US (VTI) (QQQ) iron ore volumes are tied to these contracts, so a successful renegotiation is vital for the future of the company. The progress on contract negotiations is also one of the single-most important catalysts for Cliffs' share price over the next few months.
Article continues below advertisement
Essar Steel plant completion
One of the important factors determining the success of renegotiation of these contracts is the completion of the Essar Steel plant in Minnesota. This project comes at a time when steelmakers in the US such as U.S. Steel (X), AK Steel (AKS), and Steel Dynamics (STLD) are retrenching workers and idling facilities in the US (DIA). The above chart depicts the iron ore pellet capacity in the US for 2015.
Essar expects its plant to start operations sometime in late 2016. Cliffs has a different point of view. In the company's 3Q15 earnings conference call, Lourenco Goncalves, Cliffs' CEO and president, noted that Essar was "on record saying that they will be producing pellets mid-2016 or second half of 2016. I would give them December 31, 2016. December 31, 2016, they will probably not have their pellet plant with a roof yet."
Possible downside
Most of the market participants are also of the view that given the current progress, the plant is not expected to be ready in time to take advantage of the opening of MT's contracts with Cliffs. A delay in this project's ramp-up would be positive for Cliffs.
Essar Steel's progress on its taconite facility and the general steel market sentiment could impact the outcomes of the contract negotiations. While it is in the low iron ore price scenario, ArcelorMittal (MT) is expected to have higher bargaining power. In the event of a late start to Essar's pellet facility, ArcelorMittal may not have many options but to buy from Cliffs. However, the negotiated prices could be lower.
After having talked about Cliffs' US division, in the next part of this series, we'll see how its Asia-Pacific division is expected to shape up in the coming future.