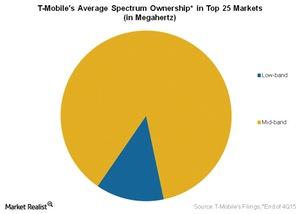 Opportunity for T-Mobile at the Broadcast Incentive Auction
By Ray Sheffer

Mar. 31 2016, Published 2:37 p.m. ET
Low-band spectrum holdings
In the previous part of this series, we learned about FCC's Broadcast Incentive Auction for the 600 MHz wireless spectrum holdings. We learned about T-Mobile's (TMUS) $1 billion senior notes, the proceeds of which will be used by the carrier to buy spectrum holdings including in this auction.
We also learned that AT&T (T), Verizon (VZ), and T-Mobile are participating in the incentive auction, according to a report by Bloomberg. Note that Sprint is not participating in this auction. The low-band spectrum is of particular importance for T-Mobile.
Article continues below advertisement
The low-band spectrums are particularly important for carriers for coverage in rural areas, as well as in-building penetration in urban areas. Among the top four US mobile players, Verizon and AT&T have significant holdings in the low-band spectrums. T-Mobile and Sprint do not have such significant holdings in the coverage spectrums.
According to the FCC, the bidders who don't have at least 45 MHz of holdings of coverage spectrum in a local area get a maximum spectrum reserve of 30 MHz in that area in the incentive auction.
T-Mobile's low-band spectrum holdings
T-Mobile has been boosting its low-band spectrum holdings. The carrier had low-band spectrum holdings in the 700 MHz A-Block spectrum, covering 210 million people at the end of 4Q15.
According to J. Braxton Carter, T-Mobile's CFO, the carrier had holdings in the 700 MHz A-Block spectrum, spanning 258 million people. He spoke about this at the Deutsche Bank Media, Internet, and Telecom Conference on March 7, 2016.
Instead of taking direct exposures to the stocks of companies in the US telecom industry, you may consider taking a diversified exposure to this industry by investing in the SPDR S&P 500 ETF (SPY).
The ETF held a total of ~2.4% in some of the US telecom companies at the end of December 2015.