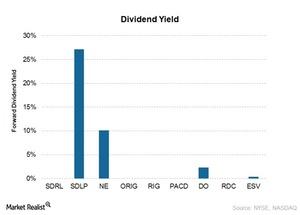 Which Offshore Drillers Are Still Paying Dividends?
By Sue Goodridge

Updated
Dividend yield
A company's dividend yield, which is calculated as annual dividend as a percentage of its share price, shows how much it pays out in dividends relative to its share price. Income investors generally value high-dividend-yield stocks.
You can also view dividend yield as a way to see how much cash flow investors are getting from each dollar they invest. High-dividend-yield stocks can be a good source of income, but at the same time, high dividends may come at a cost of growth potential. Paying out dividends means a company isn't re-investing that money in itself, which may hamper growth prospects.
Article continues below advertisement
Financial pressure on offshore drillers
Slumping oil prices have put offshore drillers (IYE) under financial pressure. The first victim of this pressure is dividends. To preserve cash, offshore drillers have either eliminated dividends or cut their dividends.
No dividends
Seadrill (SDRL) was the first company to eliminate dividends in November 2014. Pacific Drilling (PACD), Ocean Rig (ORIG), and Transocean (RIG) have also suspended their dividends in 2015.
Recently, in January 2016, Rowan Companies (RDC) eliminated its dividends.
Article continues below advertisement
Ensco's dividend cut
Ensco (ESV), in March 2016, at the time of its fourth quarter earnings release, announced a dividend cut. Ensco has cut dividends by 80% from $3 to $0.60. Now the company's dividend yield stands at 0.38%. The dividend cut came since the outlook of offshore drilling remains bleak. The company had a negative 2015 free cash flow and has a significant number of rigs coming offline in 2016, which will pressure its revenues and cash flows.
SDLP's and NE's dividend yields