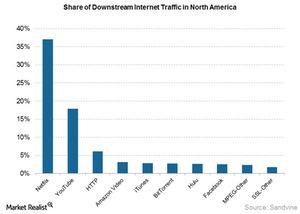 Is Netflix Violating Net Neutrality with Low-Quality Streaming?
By Shirley Pelts

Updated
Netflix is streaming low-quality video
The Wall Street Journal recently reported that Netflix (NFLX) says it's streaming low-quality videos on AT&T (T) and Verizon Communications' (VZ) wireless networks. Netflix is a heavy Internet data consumer.
According to Sandvine's Global Internet Phenomena report from last year, Netflix had a 37.1% share of peak downstream Internet data traffic in the United States. As the chart below shows, Alphabet's (GOOG) YouTube had a 17.9% share of downstream Internet traffic while Amazon's (AMZN) Prime Instant Video service and Hulu had shares of 3.1% and 2.6%, respectively.
Now let's see whether Netflix has violated net neutrality by "throttling" its videos.
Article continues below advertisement
What is net neutrality?
Earlier last year, the FCC finally passed a rule on net neutrality. The ruling made broadband a telecom service in Title II of the Communications Act, which means broadband will now be regulated like any other telecom service.
Specifically, the FCC's ruling prohibits broadband providers from blocking, slowing down, or speeding up Internet traffic for any legal applications, devices, content, or service. Broadband providers include cable companies and telecom companies.
Netflix may have not violated net neutrality rules by throttling its videos since net neutrality rules apply to ISPs (Internet Service Providers) and not content providers like Netflix.
Netflix makes up 0.24% of the SPDR S&P 500 ETF (SPY), which also has 3.9% exposure to the computers sector.