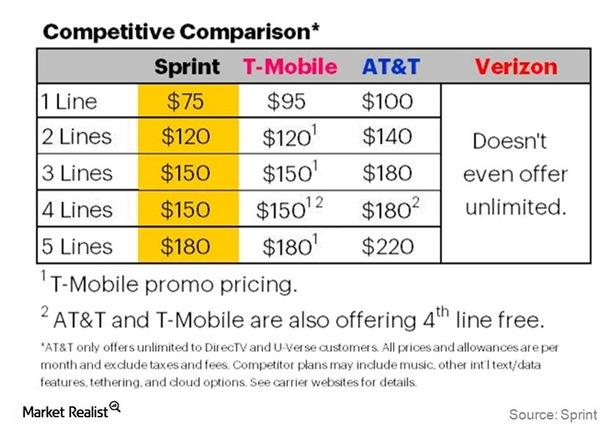 Why Is Netflix 'Throttling' on AT&T, Verizon—not T-Mobile, Sprint?
By Shirley Pelts

Mar. 30 2016, Updated 11:07 a.m. ET
Netflix isn't "throttling" its videos on T-Mobile or Sprint
It's interesting to note that Netflix (NFLX) is streaming low-quality videos, or "throttling," on AT&T (T) and Verizon Communications' (VZ) wireless networks but not on T-Mobile's (TMUS) and Sprint (S) networks. Why? According to the Wall Street Journal on March 24, Netflix has stated that it's not streaming low-quality videos on T-Mobile and Sprint's networks because "historically those two companies have had more consumer-friendly policies."
According to the Wall Street Journal report, companies like T-Mobile and Sprint slow down customers' network connections when they "exceed their data plans" instead of imposing a fee for exceeding their data caps.
Article continues below advertisement
Early this year, Sprint also initiated promotional pricing for its unlimited plan. According to the carrier, the promotional pricing for the first line is $75, two lines would cost $120, three lines would cost $150, and the fourth line would be free. For the fifth through tenth lines, the customer would pay $30 per additional line.
As you can see in the chart above, Sprint also provided a price comparison for its limited-time offer of these unlimited plans with some plans by the top three US wireless carriers, Verizon, AT&T, and T-Mobile. Verizon doesn't offer these unlimited plans to new customers. However, AT&T initiated its unlimited plan for its DIRECTV and U-verse customers on January 12, 2016.
Mobile data traffic in the United States
In the saturated US wireless space, mobile data traffic is a significant growth driver for the wireless players. Growth expectations for mobile data traffic in the United States are solid in the medium term. According to Cisco (CSCO) VNI (Visual Networking Index) forecasts, mobile data traffic in the United States rose ~56% year-over-year in 2015.
Moreover, this data traffic component is expected to grow annually at an average rate of ~42% for 2015–2020.
AT&T makes up 1.4% of the SPDR S&P 500 ETF (SPY). If you're interested in exposure to the communication services sector, you should note that SPY has 2.8% exposure to this space.