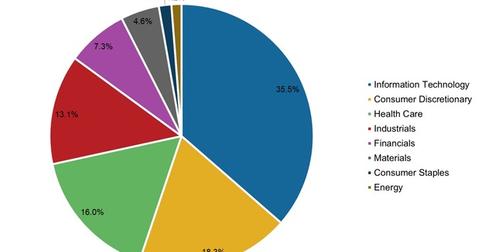 Need-to-Know Facts about the JPMorgan Growth Advantage Fund
By David Ashworth

Updated
JPMorgan Growth Advantage Fund overview
The JPMorgan Growth Advantage Fund (VHIAX) invests in common stocks without any market cap bias, although it can invest a sizable portion of its assets in a single market cap category. The fund uses derivatives, specifically futures contracts. The fund is managed by Timothy Parton, who has been with the fund since 2002.
The fund manager looks for companies that have a strong earnings growth potential. Fund literature states, "Growth companies purchased for the Fund include those with leading competitive positions, predictable and durable business models and management that can achieve sustained growth."
Article continues below advertisement
Portfolio composition
According to information provided by the fund house, information technology was the largest sectoral holding of the fund and formed 35.5% of the portfolio as of February 2016. Consumer discretionary and healthcare followed, in that order, forming a combined 34% of the fund's assets. Industrials and financials rounded out the top five invested sectors. The fund is not invested in the telecom services and utilities sectors.
Class C shares of Alphabet (GOOG), Facebook (FB), MasterCard (MA), Mohawk Industries (MHK), and Harris Corporation (HRS), were among the fund's 83 holdings as of the end of February. As of February 2016, the fund was managing assets worth $5.4 billion.
Fee and minimums
The JPMorgan Growth Advantage Fund – Class A (VHIAX) has been in operation since October 1999 and has an expense ratio of 1.25%. You require a minimum of $1,000 to invest in this fund via Class A shares, and the minimum subsequent investment is $50. The fund can charge a maximum sales charge of 5.25% of the offering price on the purchase of Class A shares.
In the next article, we'll look at some of the key metrics of the fund's performance in the one-year period ended March 18, 2016.