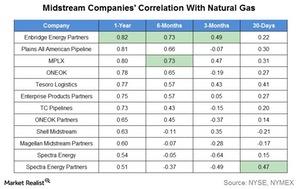 How Could Natural Gas Prices Impact Midstream Companies?
By Rekha Khandelwal, CFA

Mar. 21 2016, Updated 1:14 p.m. ET
Correlation with natural gas
Compared to crude oil, natural gas prices seem to have a lesser impact on the selected midstream stock prices, even though many of them have significant natural gas operations. Enbridge Energy Partners (EEP) had the highest correlation of 0.82 with natural gas prices over the last one year among the selected companies. The company has significant operations in both oil and gas segments.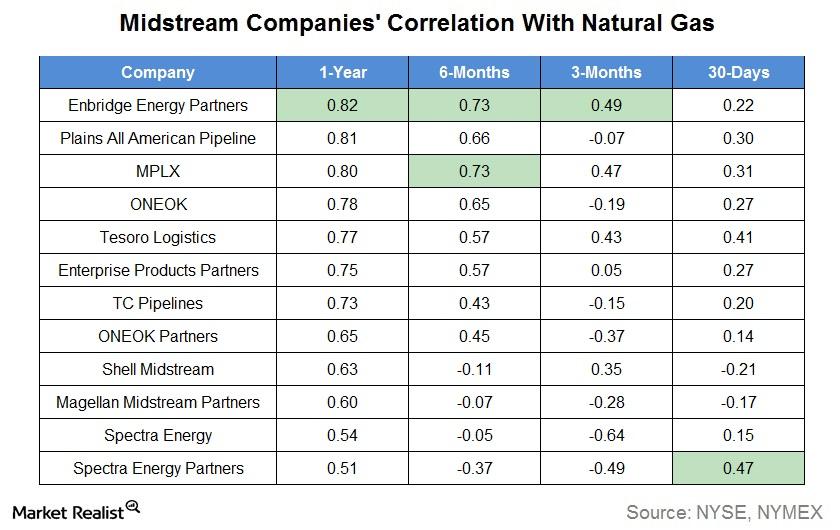 The above table shows the correlation of select midstream stocks with near-month Henry Hub natural gas futures prices. As the table shows, select midstream companies had a very low correlation with natural gas prices in the last 30-day and three-month periods. The coefficients are higher in the longer-term period of one year. The simultaneous decline of crude oil and natural gas prices partly explains this. Near-month WTI futures and natural gas prices had a correlation of 0.77 over the last one-year period.
Article continues below advertisement
Factors impacting coefficients
Crude-centric Plains All American Pipeline's (PAA) second-highest correlation coefficient over the last 12-month period may also be explained by the simultaneous fall in the two commodities over this period. As the above table shows, PAA and natural gas prices weren't correlated over the last three-month period.
MPLX (MPLX), which operated primarily in the crude oil segment, entered into the natural gas segment with its merger with MarkWest Energy in December 2015. So it might be impacted by natural gas prices more in the future compared to the past.
Spectra Energy's (SE) predominantly fee-based operations possibly explain its low correlation with crude oil and natural gas prices over the long term. SE forms ~2.3% of the First Trust North American Energy Infrastructure Fund (EMLP).
It's important to note that a number of factors influence the impact that changes in commodity prices have on a midstream operator. Below are some of the factors that may impact a company's performance and stock price:
drilling activity in the midstream company's area of operations
availability of transport and storage infrastructures nearby
use of hedges
types of contracts
Historical correlations with commodity prices help capture the impact that commodity price movements had on individual stocks in the past and may likely have in the future.