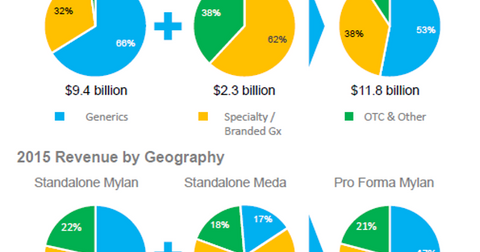 How Mylan Plans to Diversify across Product Lines and Geographies
By Margaret Patrick

Updated
Acquisition of Meda AB
Mylan (MYL) expects that its acquisition of Meda AB will prove to be accretive to the combined company's earnings per share (or EPS) in 2016. EPS should rise to reach about $0.35–$0.40 per share in 2017. This will enable the combined company to reach its goal of $6.0 EPS in 2017 instead of by 2018, which was previously estimated.
The combined Mylan–Meda entity is expected to be strong competition for peers such as Teva Pharmaceuticals (TEVA), Pfizer (PFE), and Bristol-Myers Squibb (BMY).
Article continues below advertisement
Diversification strategy
In 2015, Mylan and Meda together managed to earn revenues of about $11.8 billion and adjusted earnings before interest, tax, depreciation, and amortization (or EBITDA) of around $3.8 billion. Meda also has a strong presence in 150 countries around the world, so the deal will increase Mylan's exposure to the European and international markets.
The deal will also result in lowering Mylan's reliance on the generics segment, ensuring that the combined company has a more balanced and well-diversified product portfolio.
Following the deal, the combined company is expected to benefit from synergies arising from efficiencies in the cost of goods and general and administrative expenses, leveraged selling and marketing infrastructure, and cross-selling.
If Mylan manages to realize these synergies, it will be reflected in the company's share price. It will also prove beneficial for the share price of the iShares Nasdaq Biotechnology ETF (IBB). Mylan accounts for about 4.2% of IBB's total holdings.
Strong growth
It's estimated that Meda alone would have reported a compound annual growth rate of about 3% in revenue and 5% in adjusted EBITDA from 2016 to 2018. In addition to its profitable product portfolio, Meda will add around 4,500 employees to Mylan's portfolio, including about 2,650 marketing personnel in 50 countries around the world.
Meda is also expected to strengthen Mylan's manufacturing capability, as Meda operates seven manufacturing units spread across India, Europe, and the United States.
In the next part of this series, we'll explore how Mylan plans to strengthen its respiratory, dermatology, and pain franchises in 2016.