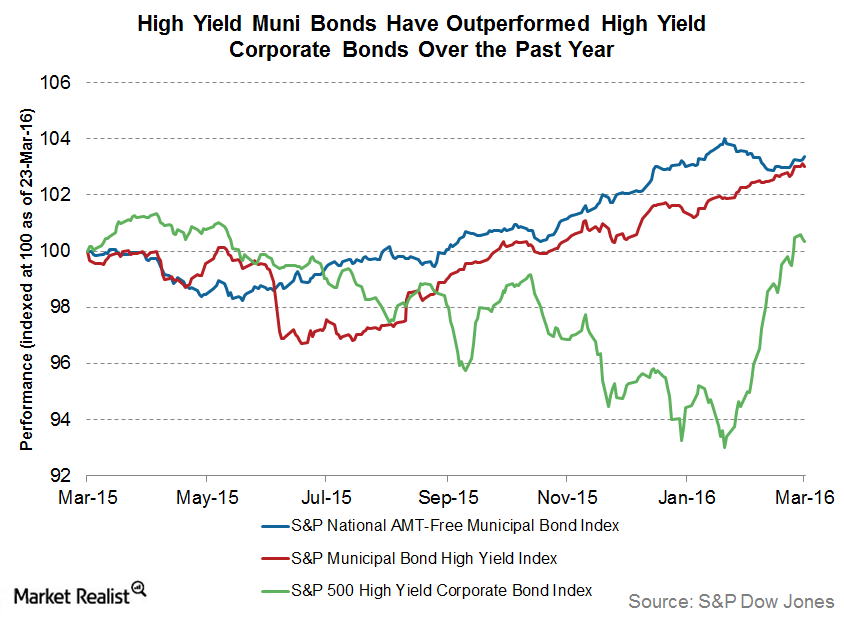 Muni Bond Investment Opportunities in the Current Environment
By VanEck

Dec. 4 2020, Updated 10:53 a.m. ET
BUTCHER: Thank you. Do you see any specific opportunities today?
COLBY: I think there are two fairly distinct opportunities for investors to consider. One is based on interest rates and interest rate outlooks. The other is based on risk that investors might be willing to assume on a credit basis.
From an interest rate perspective, the history of the municipal yield curve, particularly the intermediate part of it, suggests that over time the steepness of the curve offers an opportunity to gain incremental returns as an investment moves from longer maturities to shorter maturities. We have a product with ticker symbol ITM that captures that steepness and investment opportunity without taking on a great deal of interest rate risk, which one would normally see and expect from the 30-year part of the yield curve.
Article continues below advertisement
The other opportunity is in high yield. Municipal high yield, because it is broadly diversified, doesn't have the distinct and deep exposure to energy that other asset classes may have, particularly in the corporate high yield marketplace. Municipal high yield's broader diversification still delivers high yield and the taxable equivalent is very favorable relative to the corporate market and other asset classes.
Intermediate investment grade and municipal high yield are the two opportunities that I would suggest investors take a look at.
BUTCHER: Wonderful. Thank you very much.
Market Realist – As described above, there are two very distinct opportunities in the muni bond market – intermediate investment grade muni bonds (ITM) and high yield muni bond funds (HYD).
High yield muni bond funds are typically considered to be less risky than their corporate counterparts. According to Moody's, 32.4% of corporate securities rated junk (JNK) (HYG) witness defaults in ten years. On the other hand, only 7.5% of tax-exempt bonds rated junk by Moody's witness defaults in 10 years (Source: Bloomberg Business). Given the better credit quality of non-investment grade muni bonds, investors could consider swapping out corporate high yield funds with similar high yield muni bond funds.
High yield muni bond funds have outperformed their corporate counterparts over the past year. This can be clearly seen in the previous graph. According to Barclays Plc, non-investment grade muni bonds gave returns of 1.8% in 2015, while negative returns of -0.8%, -4.5% and -22% could be seen for U.S. high yield loans, corporate securities and floating rate notes (Source: Bloomberg Business). As has been discussed above, the underwhelming performance of corporate high yield can be largely attributed to the slump in the energy sector (XLE) (OIH) and oil prices (USO), to which it is largely exposed.
Investors looking for exposure to high yield municipal bonds could look at the VanEck Vectors High Yield Municipal Index ETF (HYD). HYD has already registered $62 million in inflows so far this month (Source: etf.com), and could be a good investment opportunity for yield-seeking investors.
However, high yield municipal bonds are definitely riskier than investment grade municipal bonds, and hence are prone to be more volatile. Investors should keep this in mind during portfolio allocation to high yield municipal bonds.