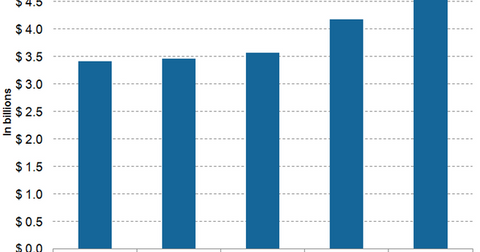 Could Growth in Acute Care Revenues Pressurize UHS's Valuations?
By Margaret Patrick

Updated
Acute care markets
Over the last few quarters, Universal Health Services (UHS) has been consistently witnessing strong growth in patient volumes and revenues in the Las Vegas market and the Southern California market. The company has also experienced improvements in payer mix and bad debt levels in these markets.
The Texas market, however, has underperformed the company's expectations. To know more about Universal Health Services' key markets, please refer to Exploring Universal Health Services' major markets.
Article continues below advertisement
Modest growth
Universal Health Services' acute care revenues rose by 10.9%, from approximately $4.2 billion in 2014 to $4.6 billion, in 2015.
The company expects revenues from its acute care business to grow by 6% on a YoY (year-over-year) basis in 2016, with growth attributed equally to an increase in prices and an increase in patient volumes. As the payer mix continues to stabilize, Universal Health Services expects moderation in the revenue growth rate for its acute care business. This trend will also affect profit margins of other hospital companies such as HCA Holdings (HCA), Community Health Systems (CYH), and Tenet Healthcare (THC).
In 2015, Universal Health Services' acute care margins suffered due to increased employee turnover rates and an inefficient hiring process, especially for nurses. This has increased the company's use of contract labor, which is generally costlier than employed personnel.
To counter these problems, Universal Health Services has been involved in increasing its market share in the lucrative Las Vegas market by building an additional hospital, which will be operational by the end of 2016.
Revenue seasonality
Universal Health Services witnessed low patient volumes in December 2015 and early January 2016, mainly due to the late start and low intensity of the flu season. According to Centers for Disease Control and Prevention (or CDC), "In the Northern hemisphere, winter is the time for flu, but the exact timing and duration of flu seasons vary. While seasonal flu outbreaks can happen as early as October, most of the time flu activity peaks between December and February, although activity can last as late as May."
Patient volume, however, recovered in mid-January and continued to be strong in February 2016. The flu is one of the key seasonal revenue drivers of Universal Health Services' acute care business.
If patient volume continues to be strong for the rest of 2016, it will imply strong revenue growth and subsequent rises in share price for Universal Health Services. This trend will also benefit the share price of the iShares Russell Mid-Cap Value ETF (IWS). Universal Health Services makes up about 0.3% of IWS's total portfolio holdings.
In the next article, we will discuss analysts' expectations for Universal Health Services' net profit margins in 2016.