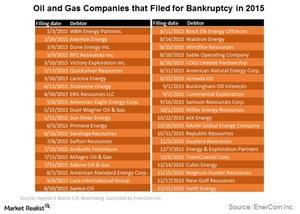 Why Minimum Volume Commitments May Not Protect MLPs
By Rekha Khandelwal, CFA

Mar. 4 2016, Published 8:49 a.m. ET
Sabine case
While minimum volume commitments work well, in general, things change in a sustained low commodity price environment. Currently, this is the case. Sabine Oil & Gas is an independent oil and natural gas company. It's engaged in the exploration and development of oil and gas. It filed for bankruptcy in July 2015.
A company press release said that "Like many other exploration and production companies, Sabine's operations have been significantly impacted by the recent and dramatic decline in oil prices, the continued low prices of natural gas, and general uncertainty in the energy market." It announced the company's Chapter 11 bankruptcy filing.
Article continues below advertisement
Contract with Cheniere Energy subsidiary
As part of its restructuring effort, Sabine wants to end its contract with Nordheim—a Cheniere Energy (LNG) subsidiary. The contract requires Sabine to ship a minimum volume of gas through a system built by Nordheim. According to Sabine's lawyers, the company could save millions by ending this contract. Cheniere Energy forms ~0.1% of the Vanguard Growth ETF (VUG).
Larger impact
According to Haynes and Boone, 42 oil and gas companies filed for bankruptcy in 2015. While a decision on the Sabine case will impact Cheniere and its subsidiary, the outcome could also result in other upstream companies trying to find a way out of such contracts.
Similar to Sabine, Quicksilver Resources also wants to end its contract with Crestwood Equity Partners (CEQP). Quicksilver filed for bankruptcy in March 2015.
If the outcomes of these cases are in favor of Sabine Oil & Gas or Quicksilver Resources, it would strengthen other oil and gas producers' power to renegotiate their existing contracts. In the current environment, some companies might find such volume commitments to be too expensive. The development in the Sabine and Quicksilver cases could have a huge impact on an already struggling midstream sector.
Columbia Pipeline Partners (CPPL) and Summit Midstream Partners (SMLP) are among the MLPs that have minimum volume commitments with clients.