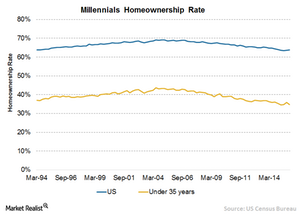 How Millennials Are Driving Broader Economic Shifts
By Ann Hynek

Mar. 1 2016, Published 1:06 p.m. ET
But though millennials may have been born into unlucky economic circumstances, they seem to also be transforming their luck. While millennials are still confronting challenges, this population of 80 million in the U.S. is driving broader economic shifts that have long-term consequences. As Rick frequently points out, millennials are breaking with tradition, re-shaping the real estate market and fueling growth of the sharing economy. For more on this, I recently asked Rick for his take on Gen Y.
Article continues below advertisement
Market Realist – The emergence of a sharing economy
Millennials are better educated than the previous generations and grew up in a period of rapid technological (IXN) (VGT) change. Their evolution has shaped the way they connect with technology. Technology has also created immense entrepreneurial opportunities for millennials. A large number of millennials are eager to start their own businesses while many of them have become eminent entrepreneurs at a very young age, outdoing many large traditional companies and driving broader shifts in favor of a technology-driven economy.
Millennials are reluctant to buy luxury goods and services. Instead, they prefer to share products and services in a cost-effective manner, giving rise to the so-called sharing economy. This asset-light way of living is partially due to financial duress created by a delay in getting a decent job and financial resources required to service higher student debt.
No wonder the homeownership (ITB) (XHB) rate for millennials declined to its two-decade low of 34.7% in December 2015. At the same time, higher demand for rented properties led to a sharp rise in rental rates. The rental housing market (REZ) is expected to witness a further boost in 2016 due to the fact that the majority of new household formation is made up of millennials. Around 1.4 million new households are estimated to form this year, out of which 93% are expected to be renters.