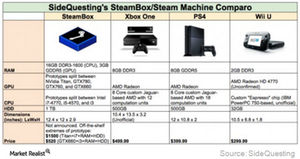 Microsoft Xbox and Sony PS4 Upgrade Rumors: Good News for AMD
By Puja Tayal

Updated
Rumors of a possible upgrade to the PS4 
In the previous two articles, we explored the impact that a possible licensing deal with Intel (INTC) could have on Advanced Micro Devices (AMD). However, there's another rumor circulating in the market regarding AMD's Japanese (EWJ) gaming console customer Sony (SNE).
At the 2016 Game Developers Conference, some developers were discussing the possibility of upgrading the PS4 (Playstation 4) with 4K video resolution, according to a report by Kotaku. The upgrade could be called PS4.5, and it could be equipped with a more capable upgraded APU (application processing unit). An upgrade could support Sony's PS VR (virtual reality), which is scheduled for release in fall 2016.
Article continues below advertisement
What does a PS4 upgrade mean for AMD? 
AMD supplies APUs for the Sony Playstation. The prices of console APUs have been falling, affecting AMD's margins. An upgrade would mean a higher-priced APU, which would lead to a higher margin for AMD.
Kotaku reported that even Microsoft (MSFT) Xbox's Phil Spencer indicated that the company was looking at a possible upgrade at a press briefing in March 2016. This could also result in an order for advanced APUs for AMD.
AMD's new VR headset
As gaming consoles look for upgrades to support VR, AMD is also entering this space. The company recently introduced its wireless VR headset, Sulon Q. It's the world's first tether-free headset for digital, augmented, and virtual reality. Unlike the HTC Vive or the Oculus Rift VRs, which require high-powered PCs to support high-end VR games, Sulon Q is a wireless computer in itself.
Sulon Q offers graphics similar to those on gaming consoles and has Windows 10 pre-installed. A user doesn't need a PC or wires to enjoy the experience of VR. Moreover, the user can also compute using the headset.
It remains to be seen how well the headset will be received by consumers once it has launched.