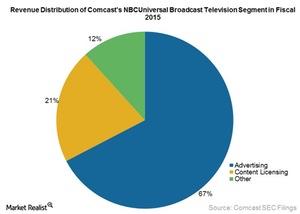 Media Sector's Retransmission Revenues Expected to Rise in 2016
By Shirley Pelts

Mar. 4 2016, Updated 10:07 a.m. ET
Retransmission consent fees
Most of the companies in the media sector expect retransmission consent fees to rise in fiscal 2016. Comcast (CMCSA) saw retransmission revenues of $535 million in fiscal 2015, and Comcast expects retransmission revenue to be about $800 million in 2016.
As the chart below indicates, retransmission consent fees were a part of Comcast's Other Revenues segment and comprised 6% of the company's Broadcast Television segment's total revenues of $8.5 billion in fiscal 2015.
By contrast, 21st Century Fox's (FOXA) Television segment generated revenues of $1.7 billion in fiscal 2Q16, driven by strong growth in retransmission consent fees. The company expects a double-digit gain in retransmission consent revenues in fiscal 2016.
CBS (CBS) expects revenues from retransmission fees and "reverse compensation" to be about $1 billion in fiscal 2016 and more than $2 billion by 2020.
The Walt Disney Company (DIS) also expects a growth in its retransmission consent fees in fiscal 2016.
Article continues below advertisement
Why media companies expect increased retransmission consent fees
Retransmission consent fees are the fees paid by a cable operator to local broadcast stations for the retransmission of broadcast programming to the cable operators' customers. For companies like Comcast, broadcast television stations have chosen retransmission consent status instead of "must-carry" status. The reason for broadcast television station operators like Comcast to feel optimistic about retransmission consent fees is because cable operators would be willing to pay a higher retransmission consent fees to broadcast television stations, ensuring that the television stations carry the cable operators' programming.
Twenty-First Century Fox makes up 0.68% of the PowerShares QQQ ETF (QQQ). If you're interested in exposure to the television and radio space, QQQ has 4.8% exposure to that space. Now let's take a look at the affiliate fees and content licensing revenues for the media sector this earnings season.