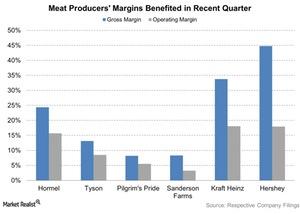 Analyzing Meat Producers' Profitability in the Recent Quarter
By Sushree Mohanty

Updated
Rising meat prices force strategy changes
Meat-producing companies and companies using meat-based products like Hormel Foods (HRL), Tyson Foods (TSN), Kraft Heinz (KHC), and Hershey (HSY) saw improved operating margins this year due to rising prices for proteins such as semi-processed chicken and beef products. The relative value of these proteins compared to other meat improved the demand. It benefited the margin. Lower grain-based animal feed prices also helped these companies stabilize or enhance their margins.
Article continues below advertisement
Kraft Foods, before the Kraft-Heinz merger, opted for a pricing strategy to increase the prices on its meat product line to meet its higher costs. Hershey also bought Krave Jerky. It makes healthy beef, turkey, and pork jerky snacks. Hershey bought the company last year to enter the jerky meat category.
Pilgrim's Pride's (PPC) margins for the fourth quarter fell YoY (year-over-year). The gross, net, and operating margin for 4Q15 was 8.2%, 3.2%, and 5.5%, respectively. Management mentioned that despite the fall in the margins, it's on track to sustainably grow the margins. The company plans to achieve this not only from its key customers but also from new accounts where it didn't have a presence earlier.
Other meat producers' margins
On the other hand, Pilgrim's Pride's peers like Hormel Foods and Tyson Foods saw higher margins in the recent quarter. Sanderson Farms' (SAFM) margins fell badly. Hormel's segments contributed to the total operating profit growth. This expanded the operating margin by 15.6%—compared to 11.10% in fiscal 1Q15. The gross margin also rose to 24.3%—compared to 18.5% in the same quarter a year ago. Tyson Foods' gross and operating margins of 13.1% and 8.5% were ahead of analysts' expectations for fiscal 1Q16. Sanderson Farms saw a decline in its gross and operating margins of 8.3% and 3.2%—much lower than the margins in fiscal 1Q15. It was mainly impacted by lower product prices.
The First Trust Consumer Staples AlphaDEX Fund (FXG) and the AdvisorShares TrimTabs Float Shrink ETF (TTFS) invest 4.7% of their portfolio in Pilgrim's Pride.